Apple set to unveil iPad 5, iPad mini 2, Mac OS X Mavericks and new MacBook Pro laptops at an event in San Francisco this week.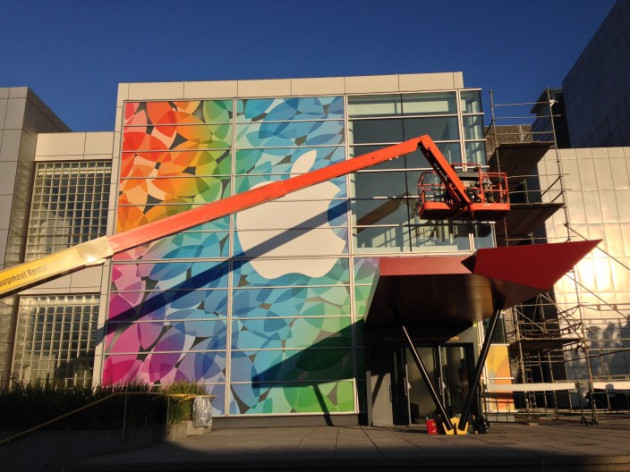 Apple is holding one of its annual media events in San Francisco on Tuesday telling members of the press on the invites that it has "a lot to cover." While we can be pretty sure of most things CEO Tim Cook will announce (new iPads and more details on Mac OS X Mavericks) there is still lots of speculation about what may be revealed (updated Apple TV or even the iWatch)
Update - Apple confirms livestream of iPad event
We've decided to put together all the details about the event and what to expect from Apple on 22 October.
Where is it on? - The event will take place in the Yerba Beuna Center for the Arts in San Francisco, a common venue for big Apple events. The Center is already being decorated for the event as you can see in the image above.
When is it on? - The event is due to kick off at 10am local time which means for UK residents things will begin at 6pm. Below is a select list of start times in various time zones around the world.
Beijing - 3am (Wednesday)
Can I watch it live? - The short answer is no one really knows. Apple has said there will be a live stream for international journalists at an event taking place in Kings Place in London and for overseas staff, but it is unclear if the event will live streamed for the general public.
While Apple has recently been slow of live stream media events, it is not unheard of, and if it does make the stream open to everyone, you'll be able to see it here. The event will be made available to everyone on iTunes and the Apple website shortly after the event.
What to expect:
iPad 5 - There have been numerous leaks regarding the update to the full-size iPad with the popular tablet getting its first major redesign since the second generation model. The easiest way to describe it is that it looks like a giant iPad mini, with much narrower bezels. It is likely to feature the same A7 chip which is powering the iPhone 5s and will get some minor camera updates. The big question remains whether Apple will being the Touch ID fingerprint scanner to its tablet range, with the latest rumours suggesting it won't.
iPad mini 2 - The iPad mini 2 won't look much different to the original in terms of dimensions, with the big change likely to be the update to a Retina display. Howevr, there have been numerous reports of supply chain issues meaning the updated 7in tablet could be delayed. Inside, the A7 chip will also likely make an appearance with the same questions remaining about the presence of Touch ID. Mirroring the iPhone 5s, we are likely to see a champagne gold version of the iPad mini 2.
Mac OS X Mavericks - The latest version of Apple's desktop operating system, Mavericks is named after a popular Californian surfing spot and was announced at its Worldwide Developer Conference in June. Promising more than 200 new features Mavericks promises to boost the battery life of your laptop, as well as bringing the company's Maps and iBooks apps to the desktop. Mavericks will also take some inspiration from iOS 7 and have a much cleaner and stripped-back look. We expect Apple to announce that Mavericks will be available via the Mac App Store sometime this week costing close to what the Mac OS X 10.8 (Mountain Lion) update cost £13.99.
MacBook Pro update - While most critics swooned over the Retina display MacBook Pros when they arrived last year, in real world terms, the 3-4 hour battery life of the laptops was a big problem. This major issue could be solved this time round however thanks to updates to Intel's Haswell chips and the update to Mavericks which will also boost battery life. Other updates will likely include faster 802.11ac wireless chips and a HD FaceTime camera. We are also likely to get a price for the Mac Pro, which was announced last June. Tip: expect ti to be VERY expensive.
Apple TV - This one is less likely. Apple has been working on an update to its set-top box for some time now, but it is unclear if the company is ready to announce any update yet. There have been rumours of a motion-control system which let you operate the system by waving you hands. What we could see is a preview of the new Apple TV, with a shipping date of sometime next year.
One more thing...Since the death of Steve Jobs we've had a number of Apple media events but despite Cook's plan to "double-down on secrecy" we've been pretty much certain of what is going to be announced before it has been. Jobs had a knack of surprising people, so we shouldn't rule out a "one more thing" moment on tuesday. And if there is going to be a surprise announcement, all bets are on it being the mythical iWatch, a project we know Apple is putting a lot of effort into, and with the recent appointments from the fashion world, something everyone is looking forward to seeing the results of.