Apple is developing a larger iPad with a resolution twice that of the current iPad Air, and which could enter production as soon as April.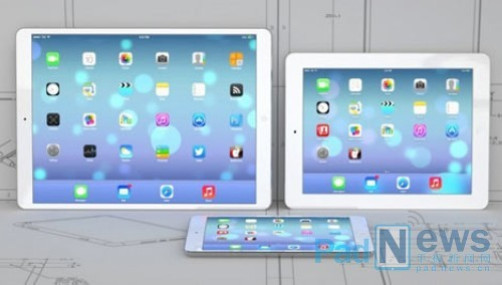 Measuring 12.9in - larger than the Air's 9.7in screen - the new tablet, expected to be called the iPad Pro, is currently in the prototype development stage, according to sources at Apple's Taiwanese manufacturing partner, Foxconn.
Speaking to Chinese website Pad News, the unnamed insiders claim Apple is working on prototypes with 2K and 4K screen resolutions; while the former seems unlikely given the iPad Air's resolution of 2048 x 1536, a 4K or Ultra HD iPad makes sense, as it would take Apple ahead of high-resolution rivals like the Kindle Fire HDX.
The iPad Pro could have a resolution as high as 4096 x 3072, double that of the iPad Air and producing a pixel density of 397 pixels per inch, much higher than the Air's 264ppi.
The news tallies with reports from the Wall Street Journal, which said in July that Apple is working on a new tablet measuring "slightly less than 13 inches diagonally."
This was followed in September by reports that Apple manufacturing partner Quanta Computer was helping to create a 12in iPad; the company has previously worked with Apple on its iPod range and the MacBook Air.
Mirroring
Following the launch of the iPad Air in October, sitting alongside the iPad mini, it would make sense for Apple to announce a larger, more work-orientated iPad Pro in the near future, expanding the tablet lineup as it has done with the iPods, MacBooks and Macs over the years, and mirroring the laptop range's Air and Pro naming system.
Pad News previously reported that a larger iPad is in the works, but this is the first we've heard of Apple experimenting with 4K which, although not yet broadcast in the US or Europe, is the future of HD video resolution.
Sony and Samsung currently sell Ultra HD televisions with 4K screen resolutions, but with prices up to £25,000, the technology is yet to be widely adopted by consumers who have only recently seen the introduction of regular HD and 3D in quick succession.
As for 4K tablets, Panasonic produces a 20in Windows 8 tablet with a resolution of 3840 x 2560, but with a price tag of $6,000 (£3,700) it is unlikely to sell in large quantities.