A remarkable set of patents published by the US Patent & Trademark Office shows Apple is working on a next generation iPad Smart Cover that could feature a multitouch keyboard, solar panels and an integrated secondary display.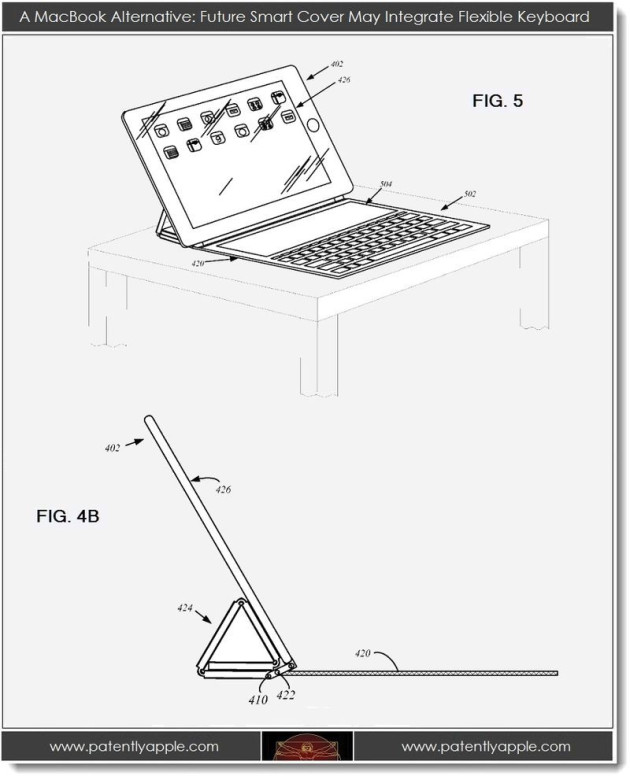 Patents rarely translate directly into future products, but these newest designs point towards vast improvements to Apple's iPad case, with an integrated keyboard, MagSafe connection between case and tablet, and an e-paper display on the outside to display notifications.
Released by the patent office on 2 August, but filed more than a year ago, the drawings show that Apple believes it is possible to build a flexible display into an iPad cover to "greatly enhance" the functionality of the tablet.
Another drawing, published by Patently Apple, shows how the screen cover could be used as a touchscreen keyboard in a similar way to the Microsoft Surface - there's also a Surface-style kickstand at the back to prop the iPad up in a laptop position.
That kickstand not only holds the iPad up, but also houses an AMOLED display for showing small amounts of text, such as a social network status, weather forecast, or unread notifications.
This AMOLED display is also touch-sensitive and could be used to control media playback without needing to place play/pause and volume icons on the main screen over the top of what you're watching.
A diagram in the patent filing shows how the back of the kickstand can be easily reached to tap on media control buttons.
Something entirely new that this patent filing brings to light is the use of solar panels to power and charge the device.
Located on the outside of the screen protector, the solar panels are positioned to collect sunlight and use this energy to power the Smart Cover's secondary display.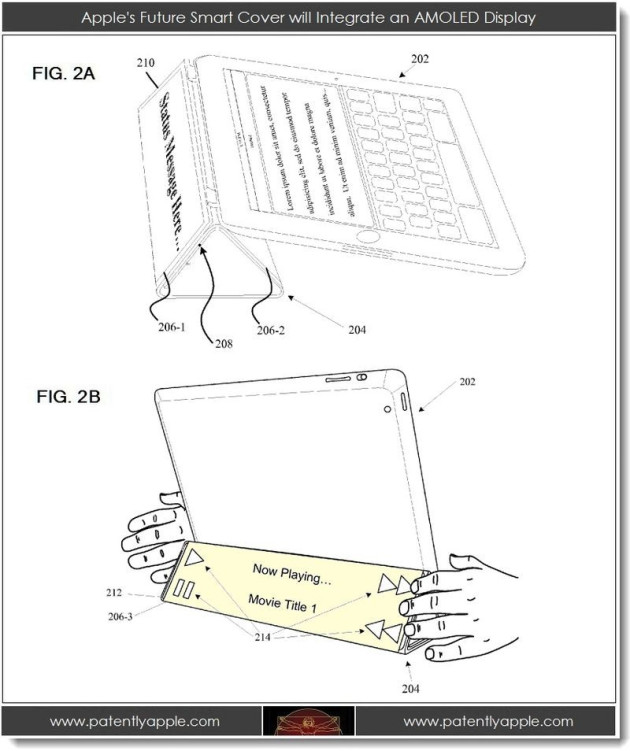 Due to the size of the iPad's battery, it seems unlikely that solar panels would be used to charge the tablet itself, however.
Finally, one design shows the Smart Cover house a touch panel that can be used as a keyboard or graphics tablet to draw on with a stylus.
By using a touch screen instead of a keyboard, Apple could present any range of key layouts - one for typing, one for gaming and one for drawing or photo editing, for example.
Further still, applications could be written to give this virtual keyboard the layout of a music mixing deck, or a video timeline for editing footage in iMovie.
As Patently Apple points out: "In another embodiment two users could simultaneously use the tablet with one user manipulating each display. This would enable robust two player gaming applications."
It is doubtful that Apple will introduce every one of these features in a new Smart Cover, but these patents go to show that the company is keen to experiment with a range of options with its future iPad accessories.