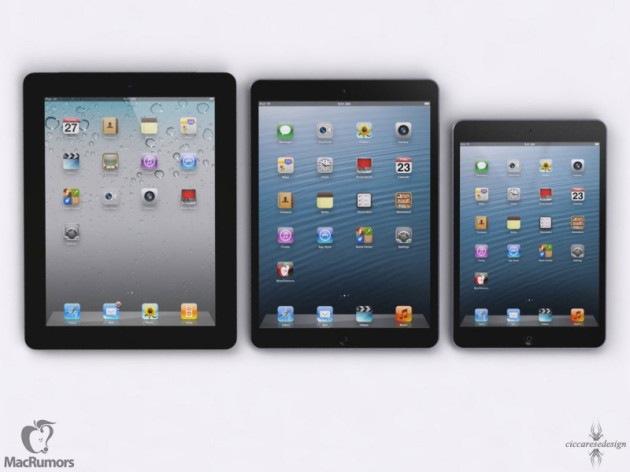 KGI Securities analyst Ming-Chi Kuo has an impressive track record of predicting Apple's product roadmap. His latest research analysis highlights expectations for Apple's fifth-generation iPad. In line with existing rumours, the analyst predicts a thinner, lighter iPad with thinner bezels around the screen.
iPad 5: Dimensions and Weight Prediction
As MacRumors reports, here is the analyst's prediction:
"We think the tablet will, at 7.5-8.0mm, be 15% thinner than iPad 4. The new device will likely be about 500 grams, or some 25% lighter than iPad 4, run on an A7X processor, and sport cameras with similar specs to the iPad 4's (front HD, rear 5MP). The casing shape and colour (silver and black) and narrow bezel design will be similar to the iPad mini's."
What Makes the iPad 5 Thinner and Lighter
As iPhone Hacks notes, Apple seems to have faltered with its strategy of quadrupling the pixel count of Retina display from iPad 2 to iPad 3, as it required a bigger screen and a larger battery that resulted in a bulkier iPad. Although there was no change in the physical profile of iPad 4 from iPad 3 in terms of dimensions or weight, the fifth-generation iPad is expected to employ the latest GF2 display technology.
The new display technology is designed to reduce screen thickness and therefore power consumption, which will enable Apple to introduce a lighter battery and save precious space and weight.
Commenting on the next-gen iPad's battery capacity and size in relation to iPad 4, the analyst had this to say:
"We therefore think that iPad 5's battery capacity will be 25-30% smaller, at 8,500-9,000mAh, than iPad 4's, and the battery's thickness will be 15-20% smaller, at 7.5-8.0mm, and the number of cells will be reduced to two from three."
Apple's Future Plans
Contrary to earlier reports that Apple will be moving its A-series chip production to Taiwan Semiconductor Manufacturing Company (TSMC), Kuo's report suggests that the iPhone maker will continue its partnership with Samsung to introduce a new A7X chip. The chip is based on the South Korean company's latest 28-nanometer (nm) process node. However, speculation about a future partnership between Apple and TSMC for the production of 20nm A7 chips in early 2014 cannot be ruled out, adds the report.
Release Date Prediction for iPad 5, Apple iPhone 5S and Second-Generation iPad Mini
Owing to the technical challenges faced by Apple, the iPad mini and the rumoured iPad 5 are unlikely to surface until Q3 2013. However, Kuo's predictions offer three possible timeframes for the release of the next-gen iPad, the second-generation iPad mini and the speculated low-cost phone (Apple iPhone 5S): August/September, September/October, and October/November.