With iCloud set to be turned on for all users today, iTunes in the Cloud is now available for users outside of the US.
Previously iTunes in the Cloud was only available to American customers, but reports are coming in that the feature is now available in the UK, Canada and Australia, adding a 'Purchased' button to the iTunes store app.
A MacRumors.com user has provided the screenshot below, showing the 'Purchased' button on an iPhone operating on the O2 network, confirming that the feature is available to UK customers.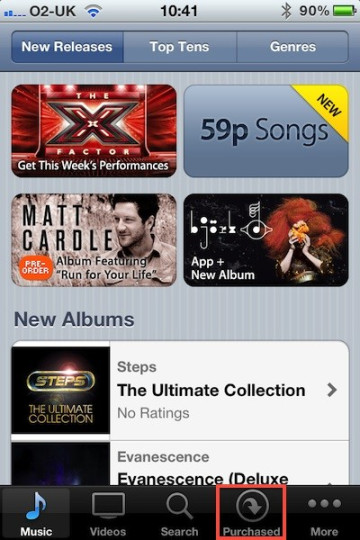 The service lets users re-download deleted music that they have previously purchased, and also play music stored in the cloud, negating the need to have an entire iTunes library on every device.
Another feature is that when a song is purchased on, for example, a user's iPhone, it will be automatically downloaded to any iPad, iPod touch or Mac running OS X Lion associated with that user's account.
While the service is available in the UK for some users, it is unclear as to whether iTunes in the Cloud will be available to more countries in the coming hours and days.
With iTunes in the Cloud appearing on UK devices it would appear that Apple has come to some agreements with record labels over music rights outside of the US.
It's worth noting that the 'Purchased' button is not yet appearing for everyone, but should be rolled out by Apple over the coming hours, before iOS 5 is set to be released around 6pm in the UK.
Apple is also expected to release the 10.7.2 update to OS X Lion later toda, bringing iCloud functionality to Macs, as well as iDevices.