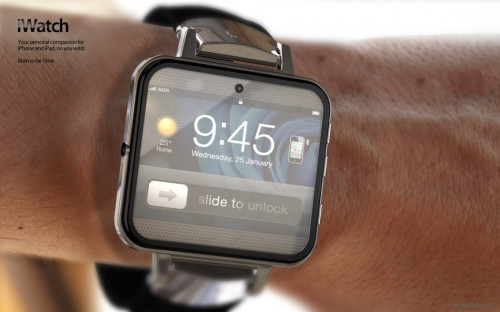 The display of Apple's iWatch smartwatch will be produced by LG, with mass production to begin in July pointing towards an autumn release date.
The South Korean manufacturer will exclusively produce two million units between July and September, according to a report from local news site D Daily, pinning a release date for the device at around autumn - close to the expected October launch of the iPhone 6.
LG's iWatch display will measure 1.52in, the report claims, and use the same P-OLED technology as the LG G Flex smartphone, which features a screen that curves from top to bottom. While LG and Samsung have so far struggled to convince consumers of the benefits a curved smartphone can offer, a curved smartwatch makes perfect sense.
Where the Samsung Galaxy Gear and Sony SmartWatch 2 use flat displays, making them sit proud from the wearer's wrist, a curved iWatch would sit more comfortably while offering an equally large screen. At 1.52in, the iWatch screen is tipped to be slightly smaller than the 1.6in Galaxy Gear.
Apple is yet to officially announce the iWatch, and after a steady stream of rumours of its development in early 2013, not a single image has yet leaked online, suggesting its launch could still be some time away.
Most recently, in mid-December sources familiar with the smartwatch's production said it would feature wireless charging; Chinese website C Technology also said the iWatch would arrive alongside the iPhone 6 in October this year.
Back in February, 2013, it was reported that Apple had a team of 100 employees working on the iWatch - and that Jony Ive was leading the project. The size of the team suggests that the project has evolved from the experimental stage to development, according to Bloomberg sources who chose to remain anonymous.
In May last year, Apple CEO Tim Cook said the whole wearable tech market is "ripe to get excited about", but stopped short of revealing what area of the market Apple is most interested in.