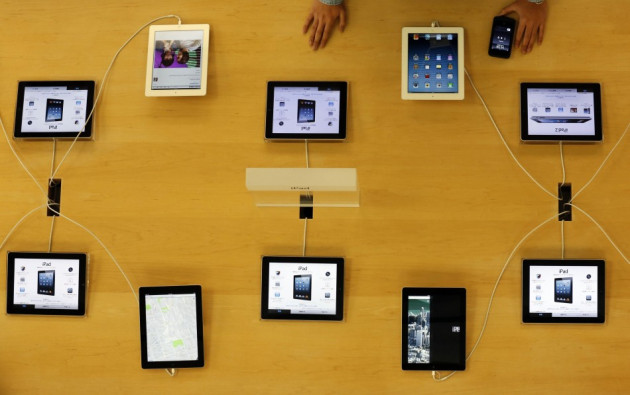 Apple has joined other global brands in raising product prices in Japan as continued weakness of the yen dents profitability of foreign companies.
Apple increased the price of its flagship iPads by up to 13,000 yen ($130) at its local stores. The price of the 64 gigabyte iPad has been increased to 69,800 yen from 58,800 yen a day ago, an Apple store employee told Reuters. The 128 gigabyte model will now cost 79,800 yen compared with 66,800 yen.
Further, the company hiked the prices of its iPod music players by as much as 6,000 yen and its iPad Mini 8,000 yen.
The yen has fallen more than 20% against the US dollar since mid-November when current Prime Minister Shinzo Abe pledged aggressive monetary easing to fight ongoing deflation in the country.
The currency crossed the 100-yen mark after the new Bank of Japan Governor Haruhiko Kuroda, who is backed by Abe, unleashed a massive stimulus programme, injecting $1.4tn into the economy in less than two years. The US dollar is currently trading at 100.44 yen, down 0.29%.
While Japanese exporters gained from the currency\'s weakness, foreign importers into the country suffered from the lower value of the currency when they repatriate profits home.
Earlier, luxury jewellery maker Tiffany & Co raised its prices despite a 20% increase in Japan sales in local currency terms during the first quarter.
In addition, German appliance maker Miele hiked the prices of some products, such as its dishwashers, because of the weaker yen and carmaker Volkswagen increased the recommended prices of 14 car models by an average of 1.5% this month.
Japanese companies that have shifted production overseas and now import products to sell at home are also hurt by the yen\'s weakness.
Panasonic earlier said that it would have to consider shifting production of washing machines and other appliances sold in the domestic market back to Japan if the yen-dollar rate weakened to beyond 105 yen.