Apple has confirmed what we have all predicted for some time, that there will be an iPad announcement on 7 March.
An invitation sent out to the world's media on Tuesday confirmed that the company will host a media event at the Yerba Buena Center for the Arts in San Francisco. Ironically, the invitation was sent out just as Google's Eric Schmidt took to the stage to deliver a keynote address at Mobile World Congress in Barcelona.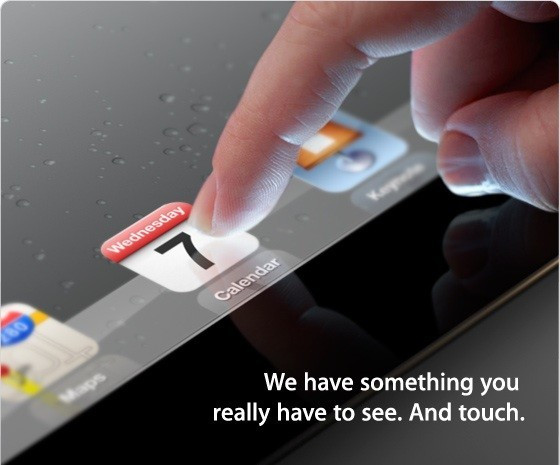 Apple is giving very little away on its invitation, other than showing a close-up shot of an iPad. On the screen are the maps, calendar and keynote application icons. The message of "something to see" as well as touch, suggests that the new iPad will indeed get an improved screen - likely to be a super-high resolution Retina display.
The iPad 3 is expected to boast a quad-core A6 processor and LTE, along with that Retina display. To catch up on all of the rumours, visit our iPad 3 rumour round-up.
Although Apple had said no more than this, we can confidently say that a new iPad will be announced - but whether it'll be called the 3 or 2S is as yet unknown.
As for a release date, Apple released the iPad 2 around a week after the tablet was announced, so we'd expect the iPad 3 be available from around the second week of March.
The International Business Times UK has requested to attend the event and is waiting to hear back from Apple.