We've all seen the queues outside Apple stores ahead of the launch of new iPhones or iPads, so we decied to try and find out why people spent days in line just to nab the latest gadget.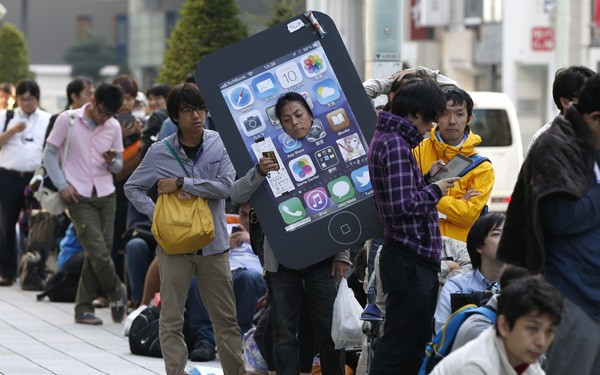 Snaking lines of bedraggled people, dragging sleeping bags and fold-up chairs behind them, hiding their faces from the banks of press cameras and looking slightly embarrassed at the cult-like, happy-clappy Apple store staff cheer them into the shiny Apple store.
This is probably not the image Apple would like to project about the people who queue up for days on end ahead of the launch of new Apple products but this is the reality.
Apple would like you to think that everyone queuing up to buy the new iPhone 5s or iPhone 5c is so enamoured with the company that they cannot stand to be without the latest and greatest iDevice for more than a few minutes after it launches.
The reality is very much different.
Simply a business
While queuing up for iPhones and iPads may once have been the preserve of the Apple fanatics Steve Jobs loved to talk about, these days it is simply a business, with the vast majority of those queuing up outside the Regent Street store in central London doing so in order to make some money.
Because Apple launched the iPhones 5s and iPhone 5c in only select countries today, there will be many people around the world willing to pay extra in order to get their hands on one of the new phones months ahead of its release in their country.
East Europe and the Middle East are among the most popular destinations for many iPhones bought in the UK today, with people in the queue being paid anywhere from £60 up to several thousand just to secure a coveted iPhone 5s at launch.
Willing to sell
Many people in the Regent Street queue told IBTimes UK that they were willing to sell their spot towards the head of the queue for the right amount of money. However with just 30 minutes to go before Apple opened the doors, some were beginning to look worried as the expected wealthy benefactors willing to shell out hundreds of pounds just to avoid queuing failed to materialise.
The so-called "grey iPhone market" has been a phenomenon for a number of years now with China being the biggest market for unlocked iPhones. However with both new iPhones available in China from day one and a deal with the China Mobile - the world's largest telecoms operator - in the offing, demand for grey market iPhones has waned.
This time around, it is likely that those who secured a gold iPhone 5s will be able to make a significant premium on what they paid for it, as this model is already sold out online and in stores around the UK. Those looking to order it online will have to wait until October to get one, therefore many could be enticed by the chance of getting one immediately even if it means paying more.
IBTimes UK spotted one person in the queue this morning placing the iPhone 5s they were about to purchase on eBay, and currently there are several models available on the auction site with one 32GB gold-coloured iPhone 5s on sale for £830, a £200 premium over the typical cost price.
Read more: