Apple is seeking a restraining order to block the Samsung Galaxy S3 from going on sale in the US later this month, but a US District Court Judge has said this ban may delay another trial date.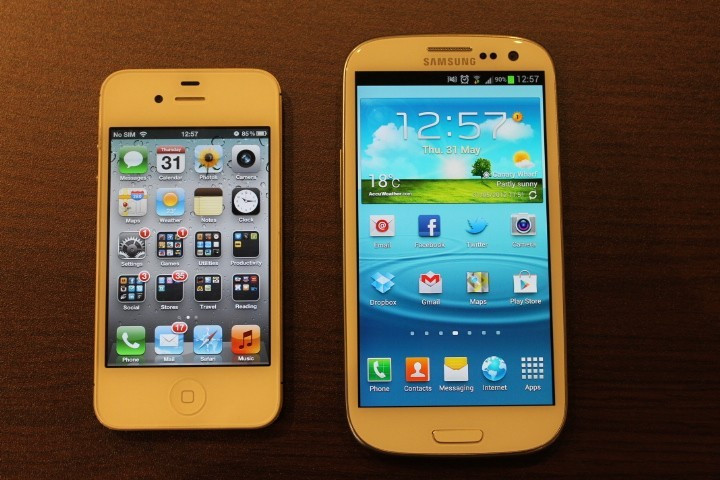 As we reported earlier this week, Samsung is set to fight Apple's bid to join a patent infringement motion agains the Galaxy S3 to one alrady in place against the Galaxy Nexus, due in court at the end of July.
Apple is looking to do this as the motion against the Galaxy S3 is very similar to Apple's attempts to have a similar block placed on the Galaxy Nexus smartphone. Apple wants to get the process of evidence sharing with Samsung streamlined.
District Judge Lucy H. Koh of San Jose California has said that if claims of infringement for the S3 are not "colourably different" from those for the Nexus, then Apple can group both smartphones together into the same trial, due to begin on 30 July.
Koh said she wants to know if the S3 contains a "different combination of features" from the Nexus for the S3's case to be heard separately.
Apple has a decision to make, as if it requests a temporary restraining order (TRO) to be applied on the Galaxy S3 in America in time for its 21 June launch, then its 30 July trial date against the Nexus might slip.
Judge Koh highlighted "human bandwidth" constraints, saying "I wanted to give some notice that I cannot be an Apple vs Samsung judge" as she has other cases to attend - so if Apple does go for a TRO on the Galaxy S3, then the original Nexus trial set for 30 July may well be delayed.
Earlier this year, Apple launched its attack against Samsung's Galaxy Nexus, claiming the smartphone infringed patents relating to sliding an on-screen icon to unlock the phone and the ability to search the phone using voice commands.
Apple also believes the Nexus infringes a predictive text patent, and finally a patent relating to data tapping, which is when data such as a phone number or street address shown in an email would route the user to the phonebook or maps app respectively when tapped.
However it is only two of these patents, one related to unified search, i.e. Siri and the other related to data tapping that Samsung has said it will fight, stating the Galaxy S3 is "innovative and distinctive" adding: "Apple's pending Preliminary Injunction Motion will have no bearing on the release date of the Galaxy S III."
The Cupertino, California giant believes that it is unfair that South Korea-based Samsung can continue to produce and launch new products that are claimed to infringe on Apple's patents, while Samsung argues that it does not believe it has done anything wrong and has every right to continue its business as normal.
Intellectual property expert Florian Mueller said on his Foss Patents blog: "From Apple's perspective it's unfair that Samsung gets away with product launch after product launch though it allegedly infringes its intellectual property. I can understand that perspective. At the same time, this is a rapidly-evolving market with fast innovation cycles, and since Samsung denies any wrongdoing, it thinks it has every right to keep releasing new products.
"Winning a TRO against the S3 would help Apple in some ways, but it remains to be seen whether it will pay the price of a postponed trial date. We'll know soon what Apple's choice is."
Apple is expected to make its decision on 8 June about whether it wants to go ahead with a TRO, which could prevent the Galaxy S3 from going on sale in the US on 21 June as planned, or instead focus on targeted both the S3 and Nexus at the 30 July trial.
The iPhone and iPad manufacturer has had some previous success with restraining orders and sales injunctions placed on Samsung products. The Galaxy Tab 10.1 was banned from sale in Australia for some time at the end of 2011 after Apple successfully proved that the Samsung tablet infringed on some of its patents.
Apple vs Motorola: Case dismissed
Apple is of course fighting legal battles on a number of fronts, and earlier this week Federal Judge Richard Posner dismissed a patent case between Apple and Motorola on the grounds that neither side was able to prove damages.
Google acquired Motorola Mobility for £7.9bn in May, after the takeover was approved by American, European and Chinese regulators.
Having initially delayed the start of the hearing, Judge Posner then dismissed it completely, saying: "I have tentatively decided that the case should be dismissed with the prejudice because neither party can establish a right to relief."
Posner will now fully review the case and make his final decision in writing within a week.
Google issued the following statement, reported by Reuters: "We are pleased by the Illinois trial court's tentative ruling today dismissing Apple's patent claims and look forward to receiving the full decision."