Apple and Samsung meet in court once again today for a judge to reconsider the $1bn fine handed down to Samsung earlier this year for infringing on the iPhone maker's design patents.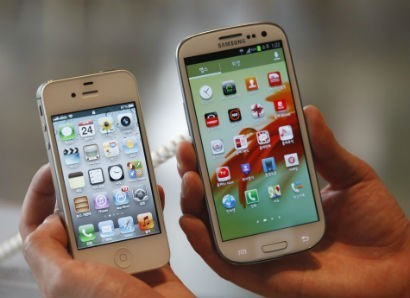 Samsung wants the $1bn (£620m) payment to Apple overturned or reduced, while Apple wants the amount to be increased by $535m and some of the South Korean company's smartphones and tablets banned from sale in the US.
If the ruling is not overturned, then Samsung can take its case to the US appellate court and finally the US Supreme Court.
Apple argues that its success in the tablet and smartphone markets depends on it being able to protect its patents, while Samsung has warned that customers face fewer choices, less innovation and higher prices if US District Judge Lucy Koh rules against the company for a second time.
Hours before the two are to appear in a San Jose, California court, Samsung filed a redacted version of Apple's settlement and patent license agreement with HTC.
Apple and HTC last month agreed to end all current lawsuits and implement a 10-year licensing deal covering some - but not all - current and future patents held by both Apple and HTC.
Last month, Samsung gained access to a heavily redacted copy of the agreement, but now the company has filed a less redacted version that sheds more light on the licensing deal, which it hopes will give the company ammunition to use against Apple in court on 6 December.
Samsung will use the agreement to argue that Apple's willingness to license its patents to HTC should weigh against its claims of irreparable damage from continued infringement by Samsung.
But there is a difference between HTC and Samsung. HTC was not accused of copying Apple's design, instead the lawsuits were about software and utility patents, and in any case the agreement between the two does not include any of Apple's design patents.
Any deal requested by Samsung would almost certainly include some of Apple's design patents, which it is very unlikely to agree to, leaving Samsung back at square one.
In an interview with Bloomberg Business Week, Apple CEO Tim Cook spoke about the ongoing lawsuits with Samsung, and how awkward it is having the Korean firm as both a major supplier and a competitor.
"Life is a complex thing sometimes, and yes, it's awkward. It is awkward. I hate litigation. I absolutely hate it. For us, this is about values. What we would like, in a perfect world, is for everyone to invent their own stuff. We love competition. But we want people to have their own ideas and invent their own stuff. So after lots of trying, we felt we had no other choice. We tried every other avenue, and so we'll see what happens in the future."
"Deliberate dishonesty"
Samsung hopes that its evidence of a jury foreman acting with "deliberate dishonesty" will help to overturn the $1bn ruling.
The company claims that foreman Velvin Hogan failed to disclose in jury selection that he was involved in a previous lawsuit with Seagate, a company part-owned by Samsung. This, according to the South Korean company, raises issues of bias that Samsung claims it should have been able to explore in its questioning of him.
The 1993 Seagate lawsuit demanded that Hogan pay back certain house payments that his Samsung-owned employer had assisted him with, ultimately causing Hogan and his wife to file for bankruptcy.
Hogan was asked about his involvement in previous lawsuits during the Apple vs Samsung case, but as he was only asked to recall involvement in the last ten years, he did not mention the twenty-year-old Seagate case.
Samsung's lawyers said in October: "Mr Hogan's failure to disclose the Seagate suit raises issues of bias that Samsung should have been allowed to explore in questioning and that would have triggered a motion to strike for cause or peremptory strike."
The company also claims that Hogan did not disclose how pro-patent he was when asked whether he had "strong feelings" about the US patent system.
The South Korean company argues that Hogan's non-disclosure does not tally up with an interview he gave to The Verge, in which he said that "except for my family, it [jury service] was the highpoint of my career...you might even say my life," and that he wanted to be satisfied "that this trial was fair, and protected copyrights and intellectual property rights, no matter who they belonged to."
With regard to where this will all end, intellectual property expert Florian Mueller explains that today's hearing is about the legal consequences of the jury verdict but as to when the two sides might comes to an agreement, Mueller is not very optimistic of a quick resolution:
"It's unpredictable when Apple and Samsung will settle. It's certain that they will do so at some point, but nobody knows when. In a filing made a few hours ago in their second California litigation they both confirmed to the court that there's been no progress with respect to a settlement since their last status report in September."