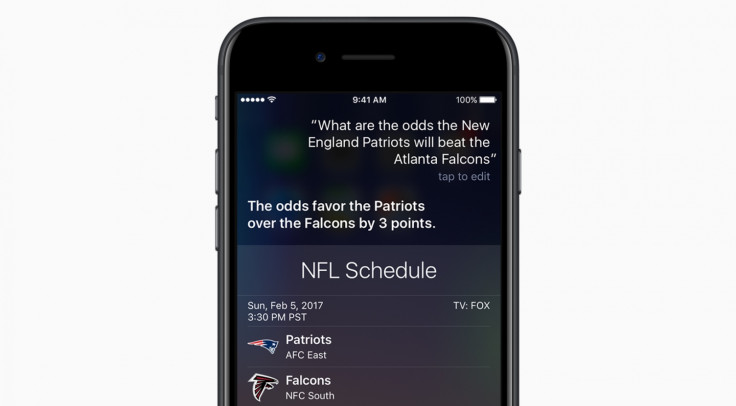 Apple has expanded Siri's sporting knowledge in anticipation of the high-profile National Football League (NFL) clash between the Atlanta Falcons and the New England Patriots at the 51st Super Bowl. The updates appear to have been rolled out across all regions, but only US users will be able to take full advantage of the personal assistant's Super Bowl expertise.
The headline feature of the update is the ability to tune into the broadcast live on 5 February (11.30pm GMT) by muttering "Watch the Super Bowl" to Apple's chatty companion. Siri will then use its "Live tune-in" feature to find a compatible TV app on Apple TV, Mac, iPhone or iPad and start streaming the championship game.
Unfortunately for UK residents, IBTimes UK found that the feature does not redirect to compatible Sky or BBC streams that are set to be aired on Sunday night, instead recommending apps that are not available outside US networks. You can, however, still test Siri's grasp of all things Super Bowl ahead of the eagerly-awaited match in Houston.
These questions include team rosters, player comparisons, historical stats, season records and more, while Apple has also said that Siri knows who is performing during the halftime show, and can remind NFL fans on the way to the game to "pick up snacks as they head out the door".
Here is the full list of Super Bowl LI-related questions Apple recommends you ask Siri on Apple TV, iPhone, iPad and Mac:
When is the Super Bowl and who's playing?
Where is the Super Bowl being played this year?
Who is performing at the Super Bowl halftime show?
What channel is the Super Bowl on?
What is the Patriots record? What about the Falcons?
Who had more field goals this season, the Patriots or the Falcons?
Who has more rushing yards this season, Tom Brady or Matt Ryan?
How many passing yards did Matt Ryan have last week?
What college did Tom Brady play for?
Who is the coach for the New England Patriots?
Who won the Super Bowl last year?