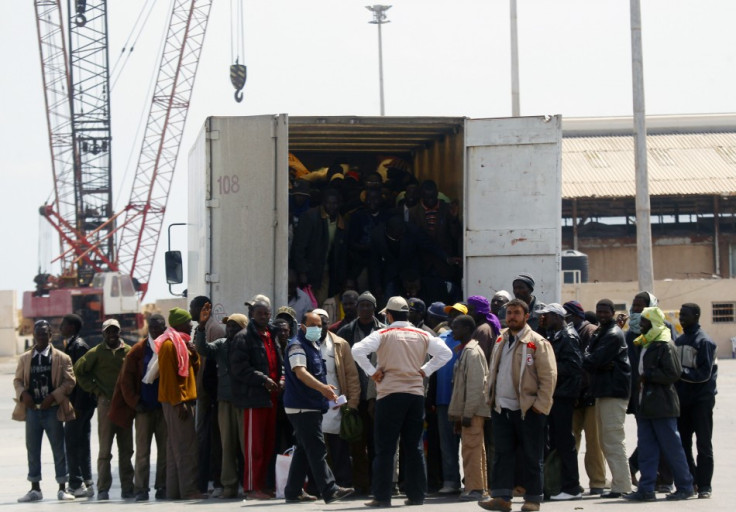 Maltreatment of African workers in Arab nations has been highlighted by reports that migrants suffered human rights violations during the Libyan conflict.
In Lebanon, this week, a group of African migrants have spoken out against the prejudice they have encountered organised following a TV documentary they whipped up anti-black prejudice.
Migrants workers complained they werew portrayed as drug dealers and prostitutes, and the inflamatory progamme had triggered a wave of arrests by the security forces that were "arbitrary, unjustified, and often accompanied by insults and beatings."
Meanwhile in Egypt, the UNHCR has this week reiterated warnings on the exploitaition of African migarants including peopleand organ trafficking. It alleged 450 Eritrean migrants were being detained by smugglers who traffic migrants in the Sinai . As a result, the International Criminal Court is now investigating.
In Lebanon, Libya and Egypt, a debate about racism towards Black people in Arab states has begun, while in Sudan, where the struggle was often described as an Arab-African problem, the government was accused of perpetrating atrocities and ethnically cleansing Black Sudanese.
Algeria, Morocco and in the Gulf States have also been accused of negative attitudes and discrimination towards Black Africans.
Throughout the Libyan conflict many migrants were arrested and detained on suspicion of being "mercenaries" but many maintained claimed to be innocent, saying they had been working in the country for years.
Even before the conflict, in February 2010, Human Right Watch issued a warning saying, "Libya must end its practices of racial discrimination against black Africans, particularly its racial persecution of two million black African migrant workers. There is substantial evidence of Libya's pattern and practice of racial discrimination against migrant workers."
Their plight has now been taken up by Amercia's foremost Black campaigner, the Reverend Jesse Jackson. "It is vital that there be an immediate United Nations investigation of the reports of ethnic cleansing and violence against dark-skinned people in Libya. The allied nations should work with the new authorities in Libya to strengthen the rule of law, stop ethnic violence and end human rights abuses. The Obama administration should independently investigate the atrocities and bring international attention to the situation," he wrote
The National Transitional Council has vowed to guarantee the human rights of all Libyans, whatever their skin colours.