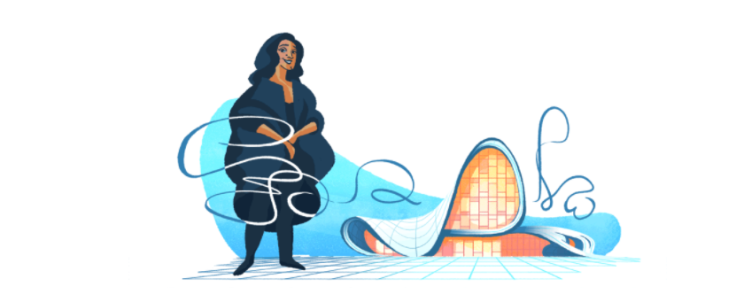 She once said: "There are 360 degrees, so why stick to one?" and it was this innovative approach that ensured Zaha Hadid would stand out in the male-dominated field of architecture.
Her aesthetic contribution is marked by Google in its latest Doodle as it was on this day (31 May) in 2004 she became the first woman to win the Pritzker Architecture Prize.
Born in Iraq in 1950, she cut her teeth at the Architectural Association in London.
Often tapping into what she saw around her, she would use the landscape to help her ideas for design. She designed the Vitra Fire Station in Germany and the roof of the London Aquatic Centre built for the 2012 Olympics.
The doodle shows her in front of the Heydar Aliyev Centre in the capital of Azerbaijan, Baku. The Google Doodle blog describes how it was inspired by Islamic designs found in calligraphy and geometric patterns.
The centre itself hosts modern art by Andy Warhol and Tony Cragg, and world-class performances from Kitaro and Alessandro Safina.
Decorated many times for her designs which include Michigan State University's Broad Art Museum and the Guangzhou Opera House in China, in 2015 she became the first woman to be awarded the Royal Gold Medal from the Royal Institute of British Architects.
She died in March 2016 and many of her buildings are still under construction, such as one of the stadiums for the 2022 Fifa World Cup in Doha, Qatar.