Are Flying Drones a Peeping Tom's Dream Tool?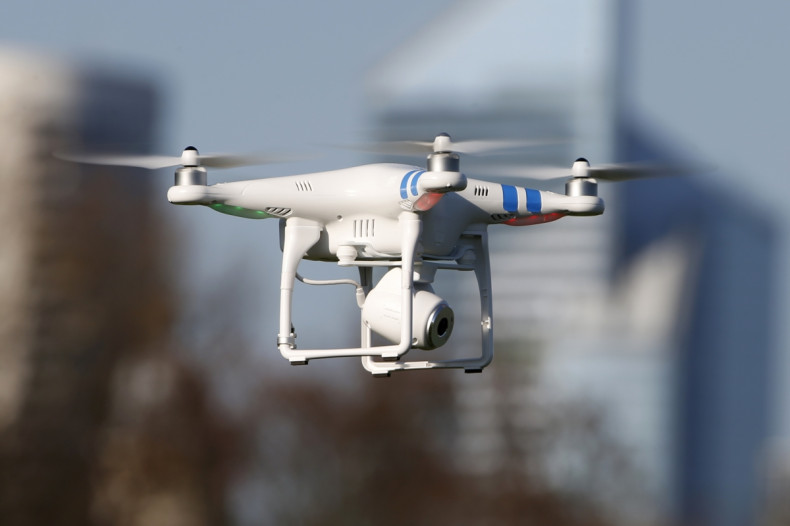 Fears are growing that helicopter drones could be used to sexually harass women and take secret photographs of them.
This week, Andrea Mears, 23, was charged with assault and breach of the peace for attacking a drone hobbyist who was flying a quadracoptor over a Connecticut beach, according to NBC Connecticut.
She called the State Environmental Conservation Police for help, but then decided to confront Austin Haughwout, 17, when he tried to leave, swearing at him and grabbing his face and shirt.
He told TV channel FOX CT that he had been flying a radio-controlled quadcopter with a GoPro camera attached to it, but that it was at least 15m (49 feet) in the air, and not taking intimate photos of anyone.
Do we really know what drones are being used for?
In May, Reddit user forthelulzaccount also complained that she had seen a helicoptor drone flying close to women as they relaxed in bikinis on a private beach in Virginia.
However, after receiving a huge amount of criticism from drone enthusiasts for how she handled the situation, she removed her account from the social bookmarking website.
Meanwhile in Seattle, a resident wrote to the Capitol Hill Seattle community blog to report that a drone had flown into her back garden and hovered next to the third-floor window of her home.
The woman said that when her husband challenged the drone operator, who was standing on the street outside their home, he claimed to be conducting "research", and insisted that it was legal for him to fly his drone over their property.
Legalising commercial drone use
The Federal Aviation Administration (FAA) authorised the first unmanned helicopter drone flight for commercial purposes in the US, a U-turn from its initial stance, which was that flying drones could impact the safety of the national airspace system, as well as the safety of people on the ground.
For the last six years, a ban had been in place preventing the commercial use of small drones, and fines were doled out to offenders of up to $10,000 (£5,960).
In the UK, small unmanned aircraft may be flown, but only if the drone does not fly into airspace; over or within 150m of a congested area or an open-air assembly of 1,000 people.
However people who want to use drones for a commercial purpose must seek permission from the Civil Aviation Authority.
While drone enthusiasts are up in arms and Haughwout might well be completely innocent, the fact remains that these small remote-controlled aircraft are able to fly almost silently in the air, and most of the time, we have no idea what they are being used for.
In March, London-based security firm Sensepost used a flying drone purchased off Amazon to fly around London Fields in Hackney, conducting an experiment to see if the drone could hack into people's smartphones by pretending to be a Wi-Fi network.
To the firm's amazement, although the drone was flying lower than the height of a house and many people were sitting outside on a hot sunny afternoon, no one noticed that it was there.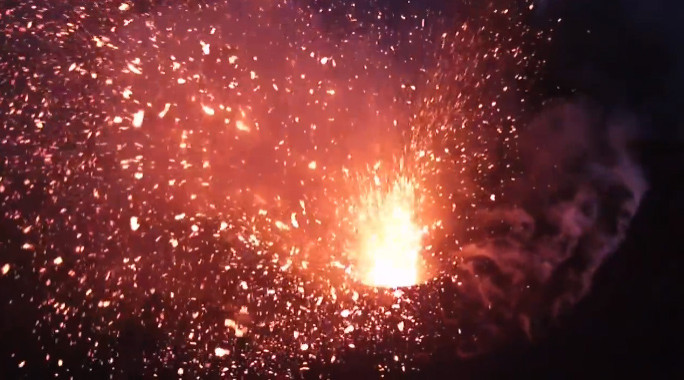 An unmanned flying drone recently captured incredible close-up video footage of Mount Yasur, a live volcano erupting in Vanuatu
Of course, unmanned drones have also been used for marvellous things, such as flown up to an erupting volcano to capture close-up live footage of spewing lava.
There is also a new service in San Francisco aiming to drop medication off to residents' doors could be of great help to the sick and elderly, as well as cutting down on transportation costs and carbon emissions.
So will drones improve our lives or cause more havoc? Only time will tell, but in the meantime, it's best to keep your eyes peeled towards the skies.