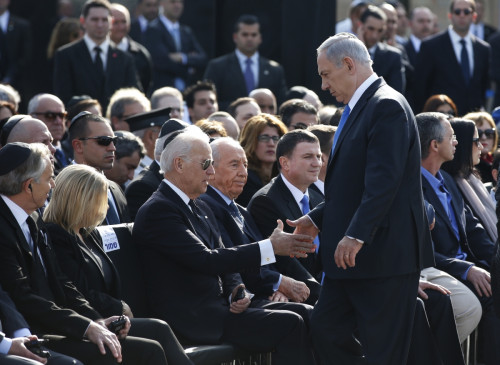 US vice-president Joe Biden and former British prime minister Tony Blair have praised the late Israeli leader Ariel Sharon for his 2005 dramatic decision to disengage from Gaza when they spoke at the first of two funeral services for the late Israeli politician.
During a ceremony in front of the Knesset (the Israeli parliament) in Jerusalem, Biden honoured Arik – Sharon\'s nickname – for the withdrawal of Israeli troops and settlers out of the Palestinian territory.
\"As a student of the Jewish state, I can\'t think of a more controversial and difficult decision,\" Biden said. \"But he believed it, and he did it.\"
\"The security of his people was always Arik\'s unwavering mission - a non-breakable commitment to the future of Jews, whether 30 years or 300 years from now,\" Biden said.
Sharon died aged 85 on Saturday after an eight-year coma caused by a massive stroke. As a ruthless military leader and later in his political roles, he was hailed as a hero at home but seen by many as a war criminal.
Biden recognised US differences with Sharon. \"Arik was never uncertain. But there were times when he acted, and those actions earned him controversy and even condemnation. And in certain instances American leaders, American presidents, had profound differences with him,\" he said.
Sharon masterminded Israel\'s invasion of Lebanon of 1982, which proved to be a total disaster and tainted the reputation of Israel in the Middle East.
In response to the shelling of northern Israel by Yasser Arafat\'s Palestine Liberation Organisation - whose headquarters was in Lebanon - Sharon sent the Israeli army into Beirut to crush the Palestinian liberation movement and force it to accept Israeli hegemony.
That offensive ultimately led to the Sabra and Shatila refugee camp massacres in which between 800 and 3,500 Palestinian civilians were killed by the Lebanese Maronite Christian militia of the Phalanges. Sharon was nicknamed the \"Butcher of Beirut\" for his role.
British former PM Tony Blair also celebrated Sharon for his alleged role in boosting peace with Palestinians. \"He took actions no one ever thought he would take: agreeing the Road Map, withdrawal from Gaza, forming Kadima,\" he said. \"But the idea that he changed from the man of war to the man of peace, misses that which defined him.\"
\"Actually he never changed, his strategic objective never wavered,\" Blair continued. \"The state, from which the age of 14 he fought to bring into being, had to be protected for future generations. When that meant fighting, he fought. When that meant making peace, he sought peace.\"
After the memorial service at parliament, Sharon\'s body will be driven from Jerusalem to his family farm some 10 km (6 miles) from Gaza, where he will be buried later in the day.
Israel said it had warned Gazan authorities to prevent any rocket fire during the ceremony. \"It was made clear to them that [... ] it would be a very bad day for anyone there to test Israel\'s patience,\" a source told Reuters.