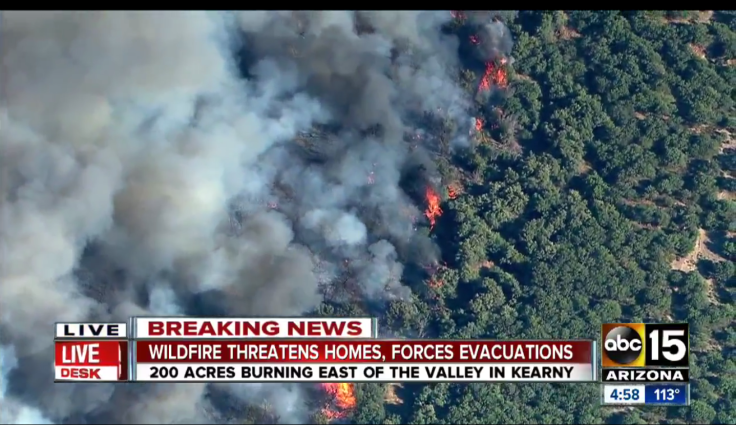 A forest fire in Arizona has forced the evacuation of several structures and 300 residents in the town of Kearny.
According to Arizona State Forestry officials, the Kearny River Fire has spread to 300 acres and was at 0% containment as of 7.30pm local time on 17 June. Authorities said two homes and two outbuilding were burned near where the fire began.
The Arizona Daily Star reported that the Arizona Department of Transportation announced the temporary closure of Arizona 177 from mileposts 138 to 145. However, local ABC News affiliate ABC15 reported the road was re-opened around 7.30pm local time.
Authorities called in two single-engine air tankers and two helicopters to battle the fire, the Daily Star reported. Nearly 200 people, 20 fire engines and five water tenders were tasked with battling the fire.
Around 100 homes were evacuated in the Stevens Trailer Park, south of Kearny. Kearny Mayor Sam Hosler told ABC15 that all homes and businesses closest to the Gila River had been given evacuation orders.
Source of fire not found
According to the Arizona Daily Star, the American Red Cross opened up a shelter for displaced residents at Superior High School. Meanwhile, an evacuation centre was established at JFK Elementary School.
Kearny resident, State Senator Barbara McGuire told reporters she was aware of the structural destruction caused by the fire. "As I was coming back from Superior [to Kearny] and coming back up over the divide, I saw this huge plume of smoke that looked like a volcano erupting," McGuire said.
"And my heart just skipped a beat because my family members are all here, my relatives are all here, and I have all my animals in the local stable here," she added.
Authorities have not uncovered the source of the fire. According to the Daily Star, the last major fire to hit the area was the Shipman Fire of June 2013. The fire, which was caused by lightning, burned 518 acres, included a home and other structures.
"It's as bad if not worse as the Shipman Fire that we had a couple of years ago," McGuire said. "But I will commend all the firefighters and the first responders, they're doing an excellent job with what they've got, they're a fine-tuned machine, they're coordinating very well."