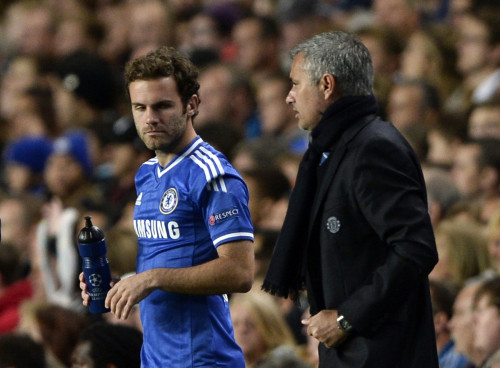 With Juan Mata on the precipice of sealing a £37m move to Manchester United many of us have been left bemused by the Spaniard's imminent departure from Stamford Bridge. For all Jose Mourinho's reasoning, surely there must be a place in the squad for the man crowned the club's Player of the Year two years running?
While Mata's mooted move to Manchester will claim the headlines this month, Chelsea are no strangers to this sort of situation. IB Times UK consider some of the other names who have left west London and enjoyed greater success and consider whether Mourinho's decision will ultimately be one to regret.
Although two Premier League titles, an FA Cup and two League Cups is hardly a paltry haul from his three year spell at Stamford Bridge, Arjen Robben's greatest club achievements followed after his time in west London. The Dutchman was an indisputable talent at Stamford Bridge, but one that frustrated and delighted in equal measures as he often struggled with consistency and injury. It was arguably a similar scenario during his two year spell with Real Madrid, but it was his move to Bayern Munich that proved to be the catalyst that ignited the ability everyone knew Robben possessed.
Rarely does a day go by when questions aren't asked of Chelsea's striking options, perhaps only on the Monday following Samuel Eto'o's hat-trick against Manchester United. But during the apex of the club's woes in front of goal it will have been a difficult sight for many associated with Chelsea to see Daniel Sturridge firing on all cylinders. The club's trio of Eto'o, Fernando Torres and Demba Ba have mustered 11 league goals between them this season, a tally Sturridge has matched on his own despite missing over two months of the season with an ankle injury.
11 Premier League goals for the Blues in the 2011/12 season represented a fairly impressive tally, but just two starting appearances and a handful of as a sub – which still yielded two goals – signalled the end of his time at Chelsea the following season, much to the benefit of Liverpool.
The club may have just sealed a deal to re-sign Nemanja Matic, but at a considerable price. The powerful midfielder was sent to Benfica along with a princely fee of €25m in exchange for David Luiz in January 2011 only for Chelsea to pay the Portuguese giants €24m to get him back last week. Remarkably, Matic is more than likely to take Luiz's place in midfield and possibly signal the end of the Brazilian's time in west London with Barcelona and Bayern Munich persistently linked with him. Although Chelsea did fend off interest from the likes of Liverpool and Manchester United to bring the Serbian back home, it would have reflected quite badly on the club had the player not been so keen to settle his unfinished business at Stamford Bridge.
There is little doubt that Jose Mourinho has the personality required in football management to make such colossal calls. The theory that the club held off on Mata's sale until Chelsea had played David Moyes' side both home and away may end up being recognised as a savvy move from The Special One, even more so should Mata inflict damage on Arsenal and Manchester City later in the season as a Manchester United player.
While the grass is not always greener on the other side, the prospect of Juan Mata linking up with Robin van Persie and Wayne Rooney will be comfort enough for United fans who have endured a miserable start to 2014, and a potential blot on Jose Mourinho's copy book in the future.