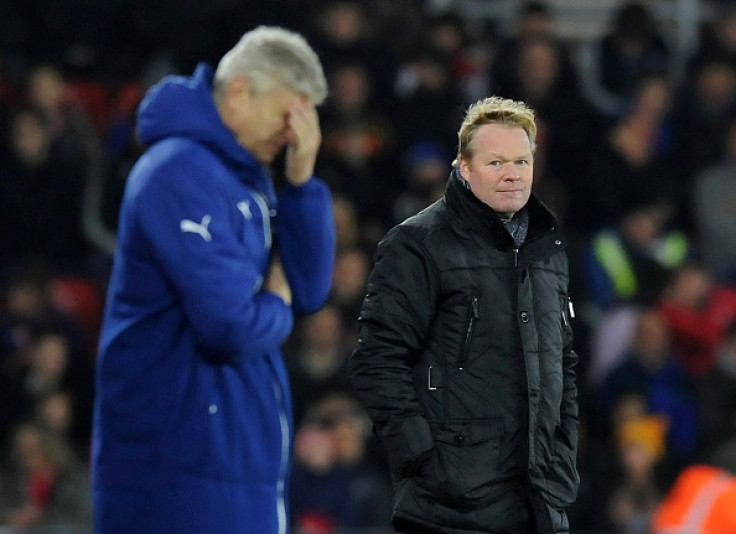 Arsenal manager Arsene Wenger was involved in a tunnel bust-up with Southampton manager Ronald Koeman following the Gunners' frustrating 0-0 draw at the Emirates Stadium on Tuesday night (2 February). Frustrations boiled over after the north London club lost further ground to their rival title challengers and dropped to fourth place after starting the year at the top of the Premier League table.
The French manager is said to have confronted the referee after the game, which was dominated by the north Londoners. The chief cause for the frustration was Saints goalkeeper Frazer Forster, who put in a man-of-the-match performance to win Southampton a point. He denied Mesut Ozil and other stars on a number of occasions, pulling off an amazing ten saves during the game.
Wenger is said to have confronted referee Lee Mason and the fourth official Craig Pawson regarding their take on some of the decisions that went against Arsenal as they fell five points behind league leaders Leicester City. Koeman, who witnessed the incident, is said to have intervened by accusing the Gunners boss of blaming the match officials for his team's lack of efficiency.
"It's always the same with you," Wenger is supposed to have said to the referee following the 0-0 draw against Southampton, as quoted by the Daily Mail.
"It's always the same with you [Koeman old Wenger]. You had 10 chances to score and didn't take any of them, instead you take it out on them (the officials)," the Southampton manager backed the referees while criticising Wenger for blaming others for his team's faults.
Forster equalled Jack Butland's record of the most number of saves in a single game, which was also against Arsenal, for this season with his performance on Tuesday. While the England U21 international conceded two goals, his Southampton counterpart stood strong to deny Mesut Ozil, Alexis Sanchez and Theo Walcott on a number of occasions during the course of the game.