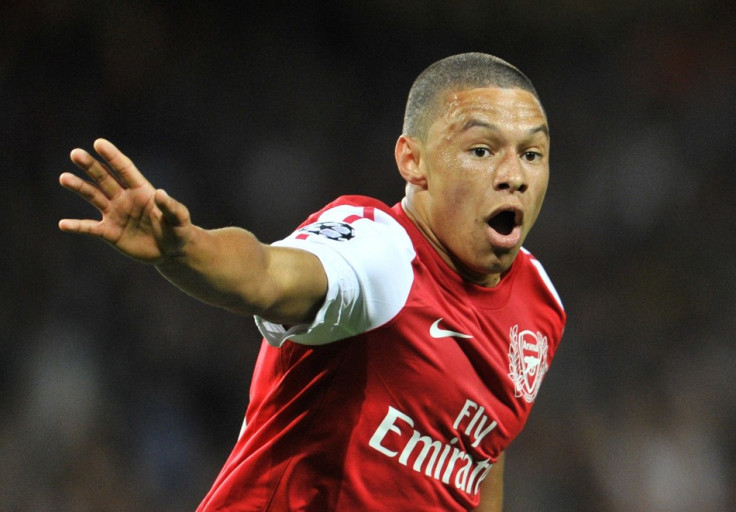 Alex Oxlade-Chamberlain says he believes he will become a star for Arsenal, but the youngster insists he will be patient and follow Arsene Wenger's direction as he strives for a first team spot.
Wenger purchased the former Southampton starlet in the summer transfer window for a record football league fee of £12 million, including £3 million in add ons. The Gunners manager took a big risk on Chamberlain, with the 18 year old unproven in any tier above League One.
But so far Chamberlain has shown that he is worth the big money fee, scoring twice in six appearances for the club, including in the Champions League.
And while the winger is still struggling to be chosen by Wenger as a regular starter in the squad, he is happy to bide his time and show a long-term worth as well as in the short term.
"I can't say [when I will play], I don't know, that's for the boss to say really," he told the official Arsenal website. "I'm just available if ever needed.
"There are a lot of games and maybe it is a time where players are going to be rested. It's a lot of work for the body physically so if I am required then I'm ready. I'm looking forward to getting an opportunity and I will try and take my chance.
"Everyone that comes into the team knows what's expected of them. At the end of the day we all train together at the same tempo and the same intensity so I think whoever steps into the team knows what's expected of them from the fans, from the boss and from each other.
"You're playing for Arsenal, you have to be on top of your game at all times if possible."
With injuries building up in Wenger's back four, along with Marouane Chamakh and Gervinho getting ready to leave for the Africa Cup of Nations, the club are looking a little thin on the ground as the January transfer window rolls around.
But Chamberlain insists that Arsenal do not need any back up for their current squad, with the club now pushing hard for a top four spot after a disappointing start to the season.
"I think it's a handicap for any team when you've got four full backs out - two left backs and two right backs. It's not ideal for any team but there are a lot of boys that can fill in," he explained.
"You've seen Thomas Vermaelen and Ignasi Miquel both do really well. With Carl [Jenkinson] and Bac[ary Sagna] out on the right, Johan [Djourou]'s filled in really well and obviously he's picked up a little niggle now.
"But the boys have the quality to do that, everybody understands everybody else's roles. If they don't play week in, week out they still understand - everybody at Arsenal is a quality player.
"I'm sure the boss will find somebody good enough to do the job."