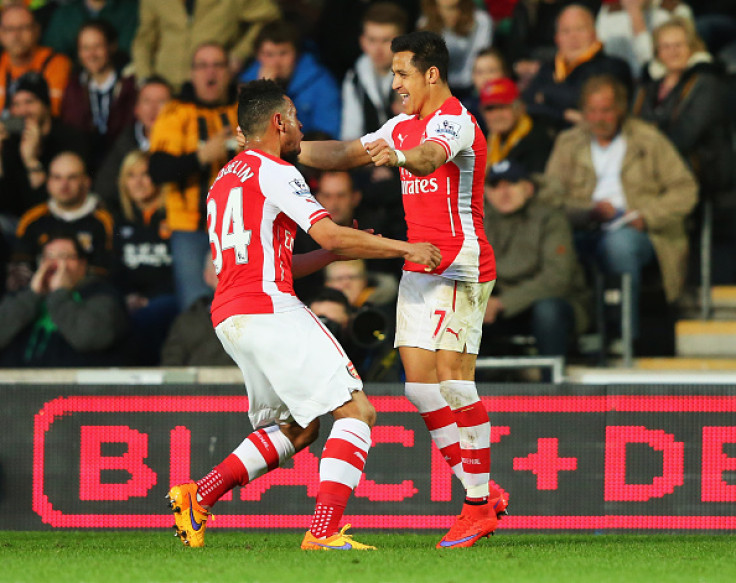 Arsenal manager Arsene Wenger has provided a positive fitness update on Gunners duo Francis Coquelin and Alexis Sanchez following their 2-1 win over Burnley in the fourth round of the FA Cup on Saturday (30 January). The midfield duo were making their first starts following a lengthy layoff due to knee and hamstring injuries respectively.
The Frenchman suffered a knee ligament injury at the end of November during Arsenal's loss against West Bromwich Albion and the manager had admitted that it would be three months before he returns. But Coquelin has returned ahead of schedule and came off unscathed following his first start against the Clarets. The Chile international, on the other hand, suffered a hamstring injury during the north London club's 1-1 draw against Norwich in November, and was expected to be back at the end of December. A setback, however, has restricted the attacker from making an appearance for almost two months, which Wenger believes is a good winter break ahead of the second half of the season.
Arsenal face a crucial clash against Southampton on Wednesday (3 February) in the Premier League and will be keen to get back to winning ways following their loss to Chelsea on Sunday (24 January), which has seen them drop from the top of the table to third place, three points behind leaders Leicester City. It will be a big boost for the manager to have two key players in good physical condition against the Saints, who beat the Emirates Stadium outfit 4-0 in December at St Mary's.
"He [Coquelin] was quite available for the Chelsea game but I thought it was a bit early. Today he looked quite comfortable and without any problems," Wenger said, as quoted on Arsenal's official site following the win over Burnley.
"[It was Alexis' first start] for eight or nine weeks. When I saw Derby against Burnley, I had a little hesitation to pick the three [Alexis, Coquelin, Elneny]. But the fact that we played at home, I thought we could manage to get away with it."
"With Alexis, I was not too much worried about on the fitness front because I kept him out two weeks ago and he was already there physically. We had some worries about his muscle but today he came through well and you could see that physically, he is ready. He had a long rest now. When he got injured, you could see signs of fatigue. I think two months' rest is a good winter break!" the French manager added.