Aaron Ramsey has expressed delight at being selected to partake in Team GB for the London Olympics, with the Arsenal starlet looking forward to working with Manchester United legend Ryan Giggs as he prepares to join up with the side in their preparations for the tournament.
Contoversy has surrounded the inclusion of non-English players in Team GB, with the Scottish, Welsh and Northern Irish Football Associations suspicious of their motives.
And after not selecting David Beckham, much talk has surrounded how the team would be chosen by Pearce, but Ramsey is just glad to be getting some important experience on the international stage before he joins up with Arsenal for their next campaign.
"I'm delighted to be a part of it," he told the official Arsenal website. "Playing in the Olympics will be a great experience and I am looking forward to it so much. It's fair to say that this could be a once-in-a-lifetime experience.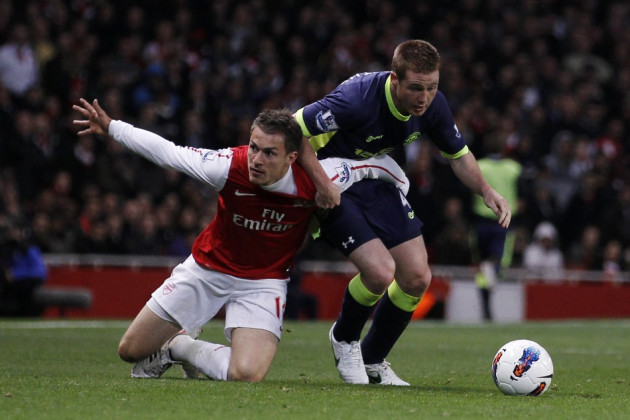 "I haven't played under Stuart Pearce before so that is something to look forward to as well. And looking at the squad of players we have I think we have a lot of quality in there.
"Now we need to work together over the next few weeks and get an understanding of each other. If we do that then I'm sure we can do well, especially with home advantage."
Ramsey is hoping that the experience will make him a better player for Arsenal and Wales, and in particular the 21 year old is looking forward to playing alongside fellow Welshman Giggs.
"It will be a good experience and a different experience to play in the Olympics, being part of a British team and playing alongside some of the English players too," he explained.
"And of course Ryan Giggs will be there too. He retired from international football before I got into the Wales team and he's an absolute icon in Welsh football. He's done it all and most players would like to play alongside him so hopefully I'll get my chance.
"I can certainly learn from him while I'm with the Great Britain squad."