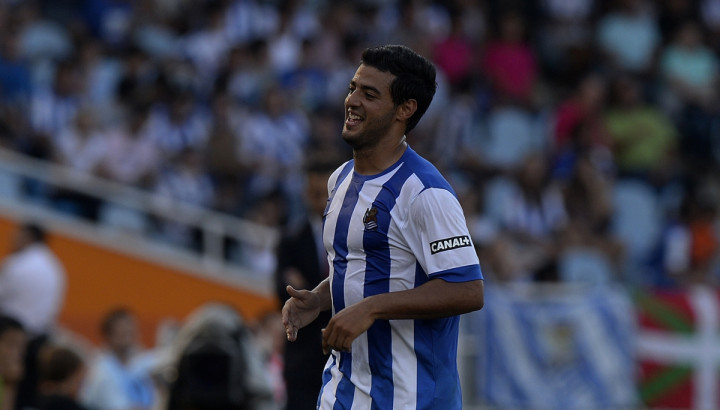 Arsenal have agreed terms with Real Sociedad over the sale of striker Carlos Vela, the Spanish club have announced.
The La Liga side paid Arsenal £2.5m in 2012 to secure 50% of the share from any future sale with the Gunners inserting a £3.2m clause into the deal which entitled them to first refusal on the player.
Arsenal had informed Real Sociedad they were set to activate the buy-back clause to sell Vela to another club for a much larger fee – with a number of outfits including Atletico Madrid prepared to pay more than £20m for his signature.
However, Real Sociedad managed to convince Arsenal to waive their buy-back clause, and after lengthy negotiations the Gunners have accepted to let him stay in La Liga for a reported fee of £8.8m.
"Real Sociedad has reached an agreement with Arsenal for Carlos Vela to continue at the Txuri urdin club," the Spanish club announced on their official website.
Meanwhile, Vela himself has expressed his happiness over the deal.
"I've always said that this is my home, I am very well in San Sebastian. I am not going to be better than here anywhere and so I told to the club president when he asked me for my (future) intention. We knew it would not be easy, but thankfully is resolved well and all parties are happy."
The 25-year-old striker was a sensation in La Liga last season, scoring 16 goals and grabbing 12 assists in 34 appearances. Vela's teammate and French international Antoine Griezmann had also revealed the Mexican star wanted to remain at Real Sociedad just before the deal was struck.
"I'm talking to you in Spanish because of Carlos. He's a top player; there's no-one better. We have a great relationship on and off the pitch because we're good friends He's relaxed. He's already signed a new contract and he's looking happy." Griezmann said.