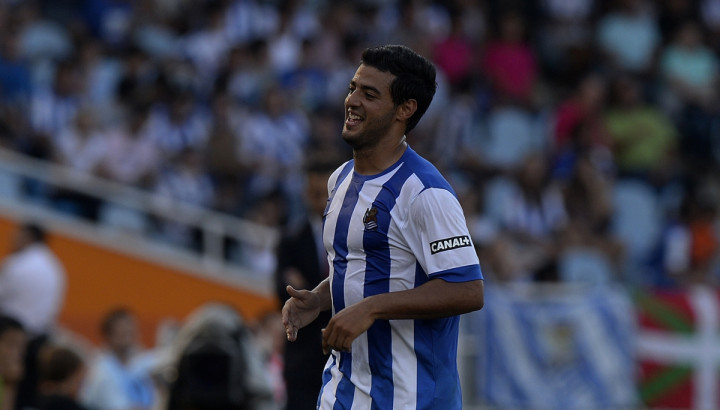 Arsenal have reportedly given up their £3.5m buy-back clause on Carlos Vela and let him stay at Real Sociedad for a fee of £8.8m, according to the Mirror.
Vela, who signed for the Gunners in 2005, was tipped for big things, but never settled into the Premier League. His time at Arsenal was mainly spent away from the club on loan, before he permanently switched to Sociedad in 2012.
The Mexican international had a £3.5m buy-back clause inserted into his contract during the time of his transfer, giving the Gunners first choice to bring him back to the Emirates.
The 25-year-old striker had a prolific season with the La Liga club scoring 16 goals and providing 12 assists in the league last season. This performance led everyone, including the player, to believe that Arsenal would surely return and activate the clause.
However, it is now claimed that the north London club will not activate the clause and will let Sociedad keep the player for a fee of £8.8m, with a further £4m to be paid depending on the number of appearances he makes for the La Liga club.
Meanwhile, earlier in the day, the Mexican's club team-mate Antoine Griezmann, who is on World Cup duty with France revealed that Vela has snubbed the chance to rejoin Arsene Wenger at the Emirates to remain in Spain.
"I'm talking to you in Spanish because of Carlos. He's a top player; there's no-one better. We have a great relationship on and off the pitch because we're good friends," Griezmann said, as quoted in the Express.
"He's relaxed. He's already signed a new contract and he's looking happy."
Griezmann, who has also been linked to Arsenal throughout the summer transfer window, was not sure about his future plans, but was hoping he can also remain in Spain along with good friend and colleague Vela.
"I don't know where my future lies yet. Hopefully I'll be able to stay, but we'll have to see what happens," Griezmann added.