Arsenal on alert as Hector Bellerin misses second Spanish under-21 training session
Reports in Spain claims the right-back is a doubt for the Friday game with Austria.
But the national team adds the Arsenal defender is expected to travel with his teammates on Thursday.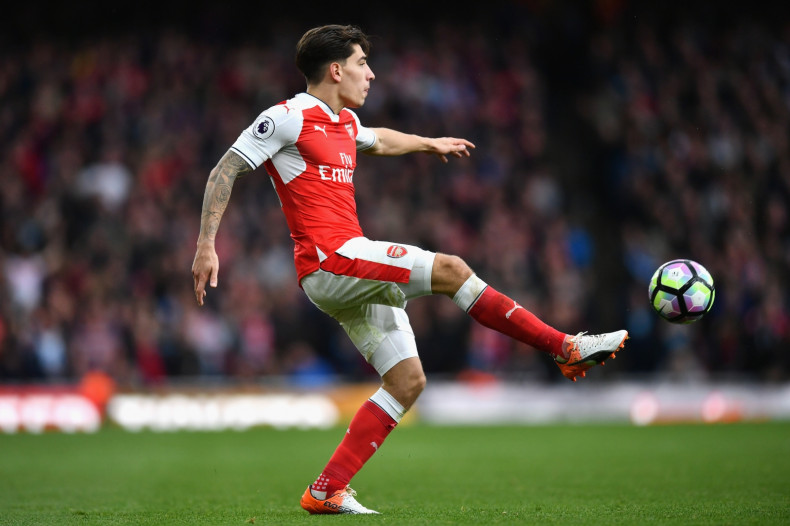 Arsenal manager Arsene Wenger has received a new concerning update from the international break after Spain confirmed that Hector Bellerin was still unable to train with the rest of his under-21 teammates on Wednesday morning (9 November). Yet, the national team added that the Gunners right-back is still expected to travel to Austria ahead of their crucial first leg of the 2017 euro playoff qualifier with the Austrians.
The worrying news come a day after the Chile football federation revealed that Alexis Sanchez has suffered a low-grade muscular injury during a training session, ruling the Arsenal forward for the World Cup qualifier against Colombia on Thursday night (10 November).
Spain already revealed on Tuesday that both Athletic Club Bilbao forward Iñaki Williams and Bellerin had not taken part of the under-21 side first session "as a precaution."
AS then added the Arsenal right-back had joined the Spanish under-21 team with some niggles and so was a "doubt" for the Friday's 2017 euro qualifier against Austria – which the second leg of the playoff to be played in Spain on 15 November.
Spain have now made a new statement on its official website, adding that the Arsenal right-back missed training again on Wednesday morning. However, they refused to rule him out for the Friday encounter as Bellerin is still expected to travel to Austria with the rest of his teammates on Thursday.
"One of the positive news of Wednesday morning was the return of Iñaki Williams to the dynamics of the group. This way only Hector Bellerin continues working away from the rest of his teammates, with whom he will travel to Austria early on Thursday ahead of the first leg of the tie with the Austrians," Spain confirmed.
The national team failed to elaborate on the nature of the issue. However, it is worthy to point out that last week Bellerin already was left out of the Arsenal trip to Ludogorets after Wenger revealed the Spaniard "had a little incident in the last minute of training." Yet, then he played the full 90 minutes during the weekend 1-1 draw against Tottenham.
Wenger will be hoping Bellerin's successive absences from the Spanish national team will be precautionary . Yet, just after the international break, Arsenal have a crucial week in which they will travel to Manchester United before a Champions Lague clash with Paris Saint Germain.