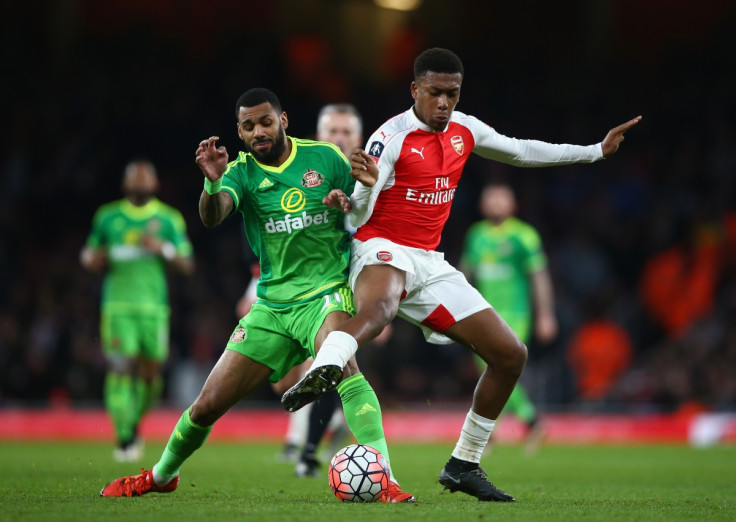 Arsenal youngster Alex Iwobi wants to be in the eye of Arsene Wenger while training so that he can earn more first team opportunities to prove his worth. The 19-year-old made his first start for the Gunners in the third round of the FA Cup at the Emirates stadium and has made substitute appearances in the league and in Europe.
A myriad of injuries to key players opened up a place for Iwobi to display his potential and the Nigerian international wants to establish himself as an integral player of the first team squad. Iwobi was given a free role behind the striker in the FA Cup where he performed admirably and will be hoping to be a part of the team against Burnley in the fourth round on 30 January.
"It is very hard. You need to train well every day and you have to be in the boss' eye and his mind all the time so that is what I'm trying to do all the time. I was just hoping to go out and learn but to play for Arsenal's first team means so much [to me] because when I play I think about all I have done to get to where I am and I feel so happy to do it," Iwobi told Arsenal's official website.
"I had a few chances like against Swansea where I came on and against Bayern Munich. I got to play 90 minutes against Sheffield Wednesday. I got a few chances and now I'm hoping to get some more. I don't know what to expect nowadays but playing at the Allianz Arena with the world's best players was just crazy. I'm taking it as it comes. You have to always be prepared as you never know when that chance will come," he added.
Iwobi revealed that the experience he had at home propelled him to becoming a footballer. He is the grandson of Nigerian legend Jay-Jay Okocha and the youngster insists that there is no pressure due to his family lineage, but only a greater motivation to do better.
"I grew up in a footballing environment. My dad, my uncle and my whole family loves football. I played with a local team with Chuba Akpom so I grew up with a footballing life.
"I see it helps me [to be related to Jay-Jay Okocha] and it gives me guidance, [it shows] what I need to work on and what I need advice on so it has helped me over the years. I don't see it as pressure [to be related to him] but he is someone I look up to as motivation as I try to be better than him," he stressed.