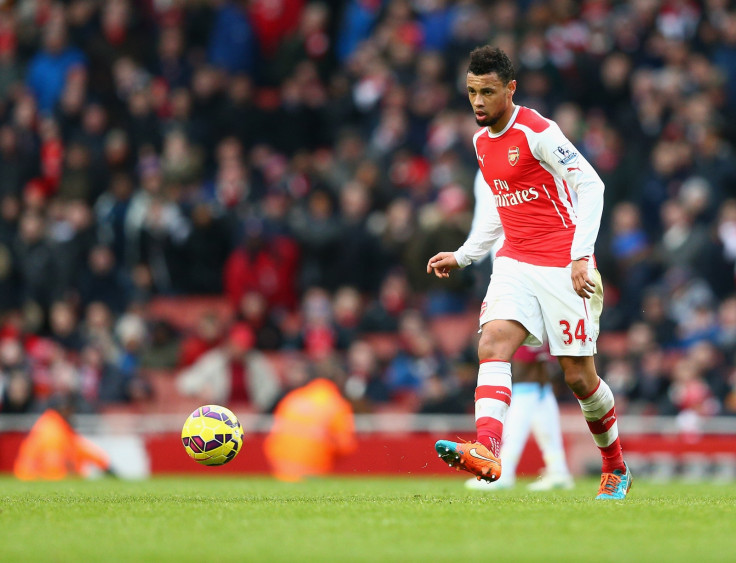 Arsene Wenger has confirmed Arsenal duo Francis Coquelin and Chuba Akpom have both signed new contracts.
Speaking ahead of Arsenal's visit to arch-rivals Tottenham Hotspur, the Gunners boss confirmed Alexis Sanchez is still suffering from an injury but has not ruled him out of making his squad for the clash at White Hart Lane on 7 February.
But Danny Welbeck will miss out having failed to recover from a thigh problem, while Jack Wilshere is still a week away from making his return.
However, Wenger had better news regarding the long-term futures of two of his emerging stars, who have both committed to long-term deals.
"I'm very happy with the business we did," Wenger said in the pre-match press conference on Friday 6 February. "We met our targets and extended Akpom and Coquelin's contracts."
Coquelin was recalled from a loan spell at Charlton Athletic in December and has since grown into an important cog in Arsenal's midfield in the absence of Mikel Arteta. His old deal was set to expire at the end of the season.
Arsenal announced on Thursday 5 February that Sanchez, 26, would miss the north London derby but Wenger hinted the Chilean could yet prove the club's medical team wrong in the final training session before the game.
"Sanchez for me is out, although he wants to have a go today, he's too short," Wenger told a news conference on Friday morning.
"[Telling him he's not playing] is not easy! He wants to play of course. He's very keen and thinks he can even defy the medical people because he's so keen.
"I don't know yet [if he could feature], I need medical advice on that and need as well to see what he can do in training."
The Gunners manager also said January signing Gabriel Paulista is fit to start against Mauricio Pochettino's side, although he is reluctant to make changes to his current partnership of Laurent Koscielny and Per Mertesacker, who have marshalled the Gunners' back line through a run of three Premier League games where they have not conceded a single goal.
"Paulista can start," he said. "At the moment I think he's ready to start, he's just not used to playing in our back four and he doesn't master the language at the moment at all – but he's physically ready.
"I think at the moment I am not especially tempted to change the middle of our defence."