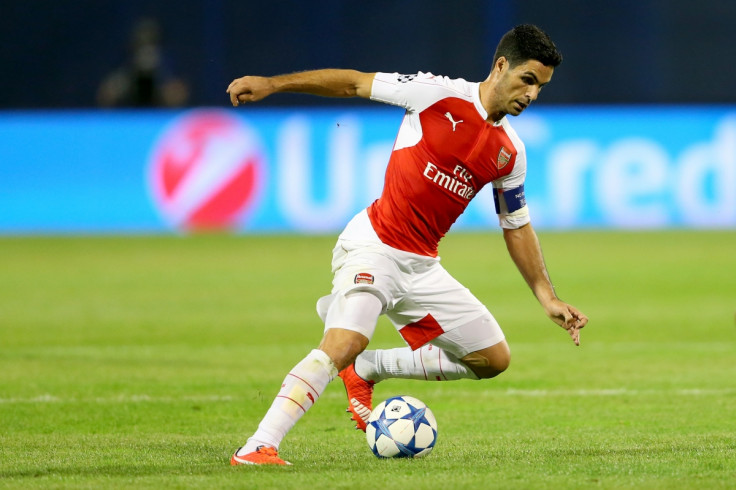 Arsene Wenger believes Mikel Arteta has the mental disposition and quality to become a top class manager and the Frenchman hopes that the Spaniard is considering moving into management after his playing career is over. Arteta has signed a new contract with the Gunners before the start of this season and Wenger believes that he still brings a lot of quality to the field, for which reason the decision to retire and consider a non-playing role would not be feasible at this point.
The former Everton man has valuable experience playing in different leagues in France, Spain, Scotland and England, which is important given that he will be able to relate to players from different cultures. Wenger talks about his conscientiousness and his ability to build a sense of camaraderie among teammates, which are two very important factors in managing a group.
Wenger himself has only two years left in his contract following which he may choose to hang his boots and hand over the reins to someone else to take the Gunners forward. Arteta, should he decide to retire from football, may be a possible option to replace Wenger in the long run.
"Mikel has a huge influence even when he is not playing," Wenger told Arsenal's official website. "He is super conscientious, and every morning two hours before training he prepares and that is absolutely right.
"Just through his behaviour, his focus on getting everything right in the team, he has a huge influence. He has great experience and is respected throughout the squad.
"I really hope Mikel considers going into coaching. When you manage, you want to see your players continue and see them give their experience and knowledge back.
"You want them to give their expertise of the way we want to play football and the way we want to behave. It would be great if someone like Mikel went into management, so somewhere the spirit of our game can survive through the players who have played for us."
The midfielder is currently out of action with an injury, having spent the major part of last season on the sidelines. His absence allowed Francis Coquelin to cement his place in the squad, but Wenger insists that there is still life in Arteta's legs to keep him playing for a few days longer.
"At the moment I must say Mikel is still here as a football player. The first thing in life, when you sign the contract you have to give absolutely everything to the job you have signed for and I think he does that very well," Wenger added.
"He has the quality to be a manager in the future I'm sure, but at the moment he gives his focus on the job as a player and gives absolutely everything."