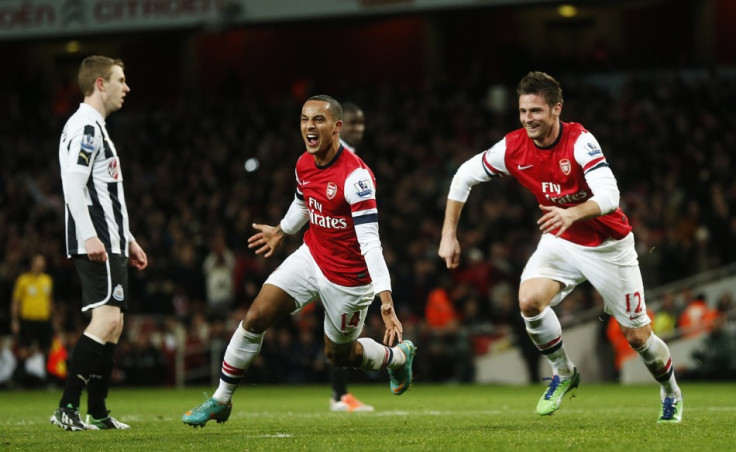 Thierry Henry believes Arsenal can finally win the Premier League title this season, but thinks Arsene Wenger may have to sign a holding midfielder in January amid continuing concerns over Francis Coquelin's fitness. The Gunners legend previously believed the club lacked a proven goalscorer, now concedes Wenger may have found the solution by moving Theo Walcott into the centre to fight with Olivier Giroud for the role.
The former Arsenal striker has hailed the side's banishing of memories regarding their slow start to the season, having put together four consecutive wins against Manchester United, Watford, Bayern Munich and Everton. However, is is still concerned with the options in the middle of the park, suggesting that Mikel Arteta and Mathieu Flamini would struggle if Coquelin becomes injured.
"That's why everyone was calling for Arsene Wenger to go and buy a holding midfielder. He didn't and Mikel Arteta is still there. Is he the same as Coquelin? Not any more, I don't think," he said to Sky Sports.
"Maybe they can get someone in January to back up Coquelin if he gets injured. Having said that, Mathieu Flamini put in an amazing performance away at Tottenham and he showed he can be there."
During the summer transfer window, Henry was vocal in his belief that Arsenal needed a world class number 9, such as Real Madrid's Karim Benzema. However, he has now backed Wenger's decision to not sign one, and instead give Walcott the chance to prove his worth in his favoured upfront role.
"I was saying that maybe they needed a striker in the summer to help out, but Theo Walcott has emerged as that striker. He is playing ever so well. Now there is competition for the No 9 role – Giroud is no longer on his own as the striker. When Walcott is playing, he's doing his job. When Giroud is playing, he's doing his job. What it does is bring a healthy competition. When I used to play for Arsenal, I knew I had only 60 minutes to perform because there was Dennis Bergkamp, Nwankwo Kanu or Sylvain Wiltord on the bench. I knew I had to perform," he said.
Henry believes the England international's competition with Giroud has brought out the best in both players, with Walcott scoring four goals in 13 appearances and the Frenchman adding a further six.
"The difference with Theo Walcott this season is that he's having a run of games. In the past, Arsene Wenger would have played him as a No 9, then put him back on the wing for five or six games, then back on the bench. But he's having a little run now. Giroud is doing the same. You need to have a run of games in order to perform," he said.
"It's OK having the confidence of the manager, who tells you you can do it and backs you up in the press, but at some point the players have to go out there and perform and that's what they're doing. You can finally see Mesut Ozil being more consistent in games, while Santi Cazorla and Alexis Sanchez are doing what they do. Ultimately that's why Arsenal are top of the table – the players you need to drive the team forward are doing it at the moment.
"It's important that Walcott goes out there with the confidence of the manager, but he also needs to go out there and play hard. You can be funny, smile and be a nice guy, but if you don't perform you'll be on the bench or leave the football club."