Arsene Wenger has overseen a micro-revival, of sorts, at the Emirates, with back-to-back Premier League wins against Reading and Wigan Athletic. The desperately needed wins and points allows the Gunners to stay within touching distance of a number of clubs, including London rivals Chelsea and Tottenham, in the race for Champions League football next season.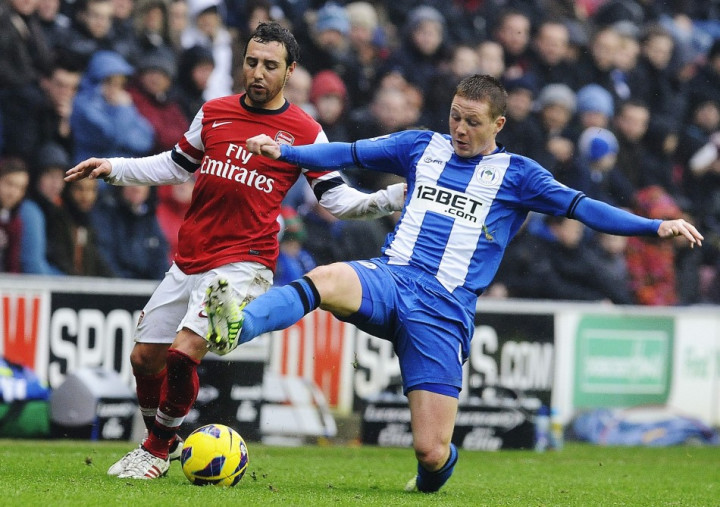 Wenger remains optimistic the north London club will qualify for the continent's elite club competition, despite a poor start to the season and increasing pressure on the Frenchman and the board to make sweeping changes in the way the Emirates club is run.
"It is down to consistency. Christmas showed us that Chelsea and Manchester City are not out of reach. The team that is consistent with their results will get there," Wenger stressed to the club's official Web site.
The Blues are third in the league and their 1-0 win over Norwich in the Boxing Day round of fixtures means Rafael Benitez's side moves to 35 points, four behind champions Manchester City and five ahead of Wenger's men. The Stamford Bridge club and Arsenal both have a game in hand, against Southampton and West Ham United respectively. City, meanwhile, slumped to a 1-0 defeat to Sunderland in their midweek game and have now lost two of the last four league matches.
However, lest Wenger forgets, the Gunners will also have to contend with Spurs (fourth; 33 points), Everton (fifth; 33 points) and West Brom (sixth; 33 points), all of whom stand between themselves and the Champions League.
Now, while Wenger may be correct in believing the Gunners can make up three or four points on these sides, it must surely be overly optimistic, given the kind of performances his side have displayed this season, to believe they can reign in the league leaders; Manchester United are 16 points clear of Arsenal at the top. But the Frenchman is adamant he can do just that.
"They [Man United] don't look out of reach if you look at the way the games go. But again they manage to win at home in the last minute. They have the quality to score goals but they do concede so it is open. But at the moment they are the most consistent," the long-serving Arsenal boss continued.
Injury Updates for Newcastle Visit
Finally, Wenger will be aware the visit of Newcastle United on Saturday is (as is nearly every game this season now) a must-win. Whatever momentum accrued, with wins over the Royals and the Latics cannot be allowed to dissipate.
The good news for the London club is their Boxing Day fixture, against West Ham United, was postponed because of a tube strike in London. This means Arsenal have had a full week's rest ahead of the Magpies' visit, while Alan Pardew's men will have to pick themselves up and dust off after a bruising 3-4 defeat to United at Old Trafford on 26 December.
The manager has confirmed there are no new injuries, with French striker Olivier Giroud and Czech playmaker Tomas Rosicky both available again. And often-injured French midfielder Abou Diaby returns to first team training this week, as does Brazilian left back Andre Santos.