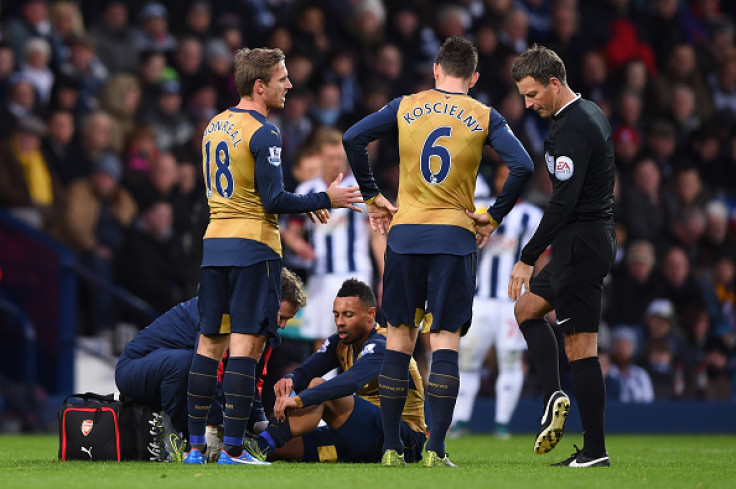 Arsenal's injury woes continue to mount and are showing no signs of improving after Mikel Arteta and Francis Coquelin suffered injuries during the Gunners' 2-1 loss at the hands of West Bromwich Albion on Saturday (21 November). The north London club, who started the weekend on second place, have dropped to fourth place in the Premier League and are currently two points behind leaders Leicester City – yes you read that right!
The Foxes are currently leading the league ahead of Manchester United, who are in second spot following their win against Watford.
While Arsene Wenger is already without a number of first-team stars, the injury to Coquelin, who was substituted just 14 minutes into the game at The Hawthorns with a suspected knee problem, will be a big blow to the club. Aaron Ramsey and Alex Oxlade-Chamberlain are the closest to returning. Theo Walcott is two weeks away, while Jack Wilshere, Danny Welbeck and Tomas Rosicky are long-term absentees.
Arteta's injury will leave them light in the defensive midfield department, with Mathieu Flamini the only option available to the French manager. The north London club are entering a crucial phase of the season, with big matches in the Champions League and Premier League coming up.
Their hopes of qualifying for the knockout phase of the elite European competition are hanging by a thread, following three losses in their opening four games. Arsenal are still not aware as to the extent of Coquelin's injury, but have confirmed that Arteta is suffering from a calf problem.
"We have two more injuries. One is a muscle problem for Arteta and the other one is a knee problem and I don't know how serious that is but we will know certainly tomorrow, for Coquelin. Arteta is a calf," Wenger said following their loss to the Baggies, as quoted on Arsenal's official site.