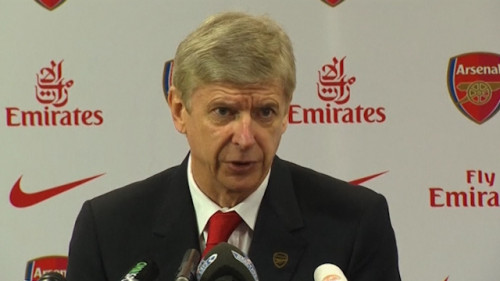 Arsenal manager Arsene Wenger has defended Mesut Ozil following heavy criticism to the German international for hiding in big games.
After sealing a shock move from Real Madrid on deadline day last summer, Ozil started the season in outstanding form at the Emirates Stadium but in recent weeks he has come under increasing scrutiny from critics who accuse him of disappearing during the important games.
The former Madrid playmaker is still the second top assist-maker in Premier League - with eight - just behind Wayne Rooney, but he has grabbed just one in his last seven domestic league appearances and he was anonymous during the humiliating 5-1 defeat against Liverpool.
Asked about that in a press conference, Wenger said: "Ozil was like everybody else [against Liverpool] on Saturday. He works very hard in training to improve.
"He works very hard to adapt to the Premier League. For me he's an exceptional player.
"He is adapting to the pressure of the Premier League. He can deal with the criticism."
Wenger claims that the game against the Reds was just an accident and he hopes to forget about that with a resounding victory over Manchester United next Wednesday.
"We will respond tomorrow in a very positive way, I am convinced of that as we have done it since the start of the season. I think the Liverpool game was an accident because we have been very stable defensively until then and we have to consider how well we have done until now" the Frenchman said.
"Winning the Premier League will be a big achievement when we do it but we have a long way to go. We tend to forget how good we are when you are not successful.
"We have worked very hard until now. These players deserve success. Let's not forget we played some convincing games against Liverpool, Tottenham, Napoli, Dortmund earlier this season."
Wenger refused to talk about a potential Robin Van Persie comeback to the Emirates but praised the Dutch striker ahead of the meeting with United.
"Van Persie is a great player. It's down to how well we defend against him tomorrow."
At the same time, Wenger revealed that Yaya Sanogo is set to return to action but he confirmed that Aaron Ramsey and Thomas Vermaelen are still out.
"We have no injuries from Saturday and we have Sanogo available as well. Vermaelen and Ramsey still out."