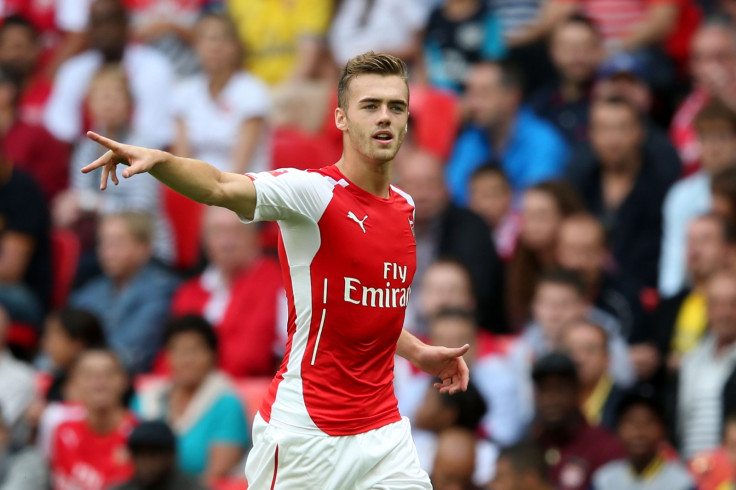 Calum Chambers insists that Arsene Wenger has played a massive role in his development since arriving at the Emirates from Southampton in 2014. The England international had a torrid time when given his first start of the season against Liverpool following the unavailability of Per Mertesacker and Laurent Koscielny but has composed himself in the past few weeks and has put in a good show in the subsequent games he has been deployed in.
The defender can play in the centre of defence or at right back but needs more experience and game time to establish himself in the first eleven. Chambers revealed that Wenger talks to him throughout training and also gives him confidence at half time during a game to go out there and play his best football.
"I'd probably say the best piece of advice the boss has given me is just to relax and enjoy myself in games," Chambers told Arsenal's official website. "Before the game or at half-time he would tell me to relax, to just play with confidence and enjoy it.
"I probably think that's the best advice he's given me because it helped me in my game. I can then relax, go onto the pitch and express myself which is useful.
"He's improved me massively. Over the past year I think I've improved in my game a lot. He goes through little things with me on the pitch and individual stuff. He gives me advice so over the past year my game has improved massively."
The manager has come under immense pressure over the past week for his team selection against Olympiacos, which led them to lose at home against the Greek champions. The Gunners are without a single point in the group stages of the Champions League and are currently stationed bottom behind the likes of Dinamo Zagreb.
Their double header against Bayern Munich will play a major role in shaping their destiny for qualification into the round of 16 later in October. The Gunners shall now face Manchester United in a league game at the Emirates on 4 October where a win can see them go on top of the league should other results fall their way.