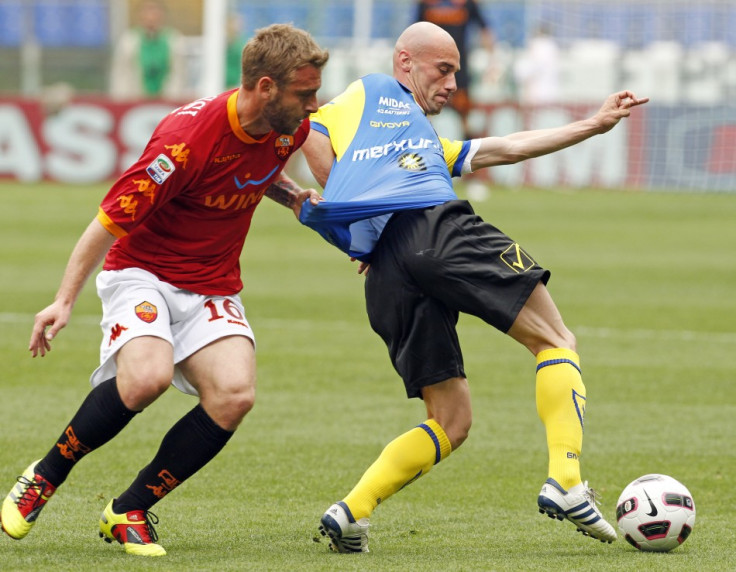 Roberto Mancini has admitted he is interested in Arsenal and Chelsea target Daniele De Rossi, but the Manchester City manager says it will be difficult to coax him away from Roma, where he has spent the majority of his footballing career.
De Rossi joined Roma in his youth days in 2000, and has been an integral member of the club's senior side ever since he moved up the ranks in 2001. He has accumulated 70 caps for Italy, scoring 10 goals for the international side, but with his contract running out next summer, the playmaker's future seems uncertain.
Chelsea have long maintained an interest in signing De Rossi, and Arsenal have recently come up as another possible destination for the 28 year old.
And City are now admitting that they have been keeping an eye on De Rossi's progress, though Mancini believes that he is happy in Italy.
"It's always difficult to get your hands on a Roman footballer and a Romanista who plays for Roma," he told the Corriere dello Sport.
"That's because a Roman is very attached to his origins and his way of life. As a result, I wouldn't be surprised if he renewed his contract.
"But, if De Rossi is one day available on the market then Manchester City will be ready, as will Real Madrid, Chelsea and all the big clubs.
"He's a top player, one of those few players who can get into the very best teams in the world. He's a complete midfielder, with class and experience."
Arsenal are on the lookout for midfielders after Cesc Fabregas and Samir Nasri left the side last summer, and while Mikel Arteta is slowly settling into life at the Emirates, the Gunners will be aiming to bolster their squad further in January.
The offer of Champions League action might lure De Rossi away from his club, though both Chelsea and Arsenal's places in the tournament next season are far from certain yet, with Tottenham and Liverpool both setting goals of making the top four, and Newcastle surprising everyone with their third position in the table.
And if Mancini is indeed correct in his predictions over De Rossi, Arsenal, City and Chelsea will have to look elsewhere for midfield targets in the next transfer window.