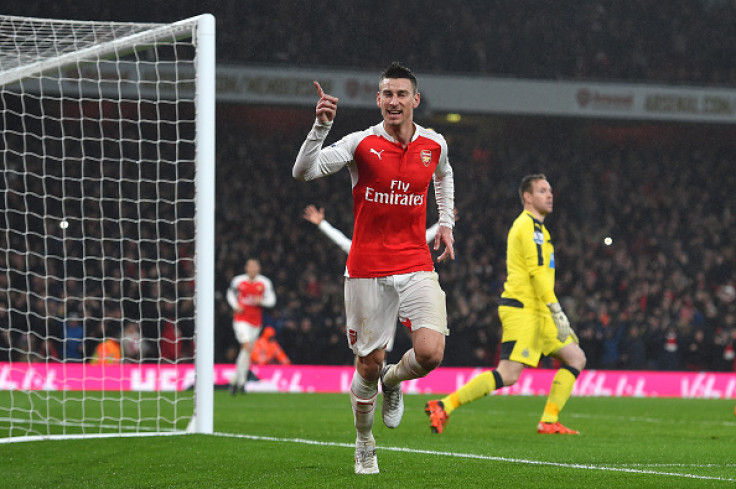 Arsenal defender Laurent Koscielny has backed Arsene Wenger to stay at the helm and lead the Gunners in their quest for the Premier League title, despite them having a 'very small' chance of overhauling league leaders Leicester City before the end of the campaign. The north London club are 11 points behind the Foxes albeit with a game in hand and eight still to play.
The French manager has come under heavy criticism in recent weeks following Arsenal's exits from the FA Cup and the Champions League along with their faltering title challenge, with supporters and pundits calling for Wenger to leave the club at the end of the season. The manager has rubbished the criticism and now has the backing of his players, including Mesut Ozil, who recently tweeted his support for the manager.
Koscielny understands the reason for the supporters' frustration, which has stemmed from a long wait for the title and the fact that Arsenal have always faltered at the final hurdle in recent seasons. But the defender, who has been one of the Gunners' top performers, believes injuries to key players were one of the main factors in Arsenal falling behind in the title race. The French international cites Santi Cazorla, who has been out injured for the last four months, as a big blow to their hopes of challenging for the title.
The 29-year-old former Lorient defender, however, is unwilling to throw in the towel and has called on the team to ditch their regular approach of stylish play and get 'stuck in' to win their next games in the Premier League.
"I can understand the frustration of supporters — the club hasn't won the title for a long time," Koscielny said, as quoted by The Sun.
"But we're doing our best every season to lift this trophy. There are ups and downs in the season with injuries and lack of form. But the coach is still the right man to help us win the league, even if we only have a very small chance."
"It's complicated. We had a good first part of the season, where we were first or second but when we reached February we had a few injuries. When you don't have Santi Cazorla for practically four months, when Danny Welbeck comes back after ten months out, it's complicated to challenge certain teams," the French defender explained.
"Now we've got eight finals left — we have no room for error any more. We've used up all of our Joker cards. We will have to get stuck in, not just think playing good football will be enough to win games," he added.