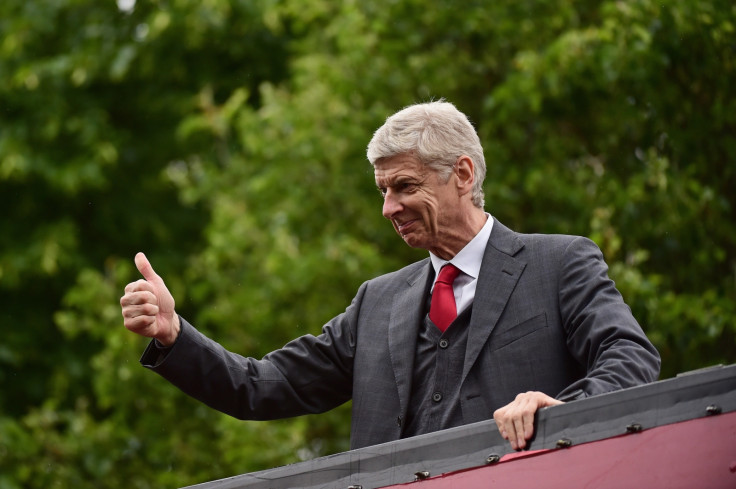 Arsenal director Lord Harris has painted a bright picture of the club's financial health and given an insight into Arsene Wenger's transfer plans this summer.
The Carpetright founder has backed the French manager to break the club's transfer record to sign a striker this summer, and believes that the Gunners can sign anyone apart from "Cristiano Ronaldo or Lionel Messi".
The 72-year-old business tycoon has revealed the healthy state of the club's finances and believes that the club can spend more freely now after years of struggle due to the debt surrounding the construction of the Emirates Stadium.
He claims that the club has around £200m ($310.3m) in its accounts and has made it clear that the Arsenal hierarchy is ready to back the manager in his acquisition plans.
"Money was tight when we moved to the Emirates but it's a lot freer now. We could go into the market and probably buy any player in the world, apart from half a dozen who are un-buyable," Lord Harris told The Daily Mail.
"In the accounts, there's over £200m in the bank. You could say to Arsene we've got no money and he wouldn't worry, or you could give him £100m and he might not spend it."
"At the moment there are no plans to sign anyone, unless he finds a real superstar like Mesut Ozil or Alexis Sanchez. He's looking for one of those but there aren't many available."
"We would back him to break the club's transfer record. If he wanted the man, he could have him. Apart from Messi and Ronaldo, he could have any player. We will probably have to break the club record to get the man he wants," the 72-year-old added.
Lord Harris has revealed that Wenger is looking to sign a top quality centre-forward this summer.
Karim Benzema
The north London club has been linked with a move for Real Madrid forward Karim Benzema, according to Spanish publication El Confidencial, but the Gunners' director has refused to reveal the identity of the French manager's top summer target.
Arsenal have made just one signing so far this summer, with Petr Cech arriving from Chelsea, and the Arsenal director has revealed that the 12-time FA Cup champions did make an enquiry last summer, but the Blues were reluctant to let him go before Thibaut Courtois had settled down properly at Stamford Bridge.
"We get a list of the players that Wenger wants. On the list is a centre forward, but I'm not going to tell you who he is. You've got to get the other team to want to sell him, but I think he wants to come. It basically comes down to whether the other team can find a superstar to replace him, because they don't have to sell," the Carpetright owner explained.
"He also wanted a top goalie, so we went out and got him. John Terry said that Cech will gain us 15 points a year, which would have won us the league last season."
"Since Jens Lehmann or David Seaman, we've not really had a world-class goalie. We made enquiries about Cech last summer but Chelsea couldn't sell him because they didn't know how Courtois was going to settle in," Lord Harris concluded.