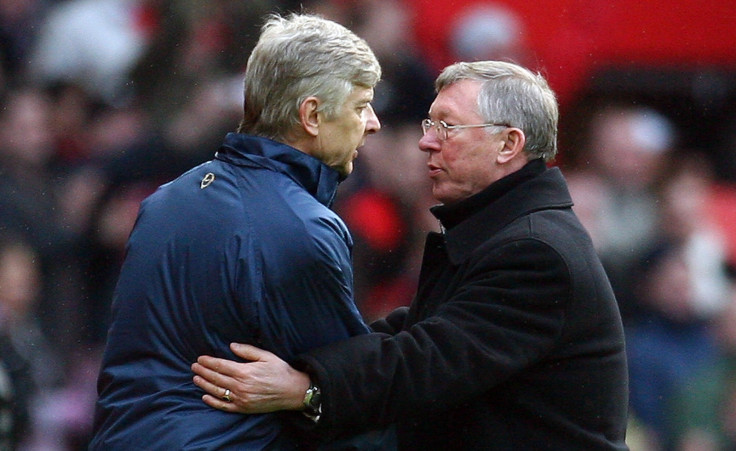 Arsenal boss Arsene Wenger insists younger players will continue to get a chance at the club while he remains at the helm.
The Frenchman has spent 19 years in charge of the Gunners, overseeing the development of several juniors who have gone on to enjoy lengthy careers either in North London or further afield. Jack Wilshere, Kieran Gibbs, Hector Bellerin and Francis Coquelin are all regulars in the current first team squad at the Emirates Stadium, and all spent time within the club's academy system beforehand.
While Wenger has spent big money on marquee signings in recent summers, most notably Mesut Ozil and Alexis Sanchez, he still firmly believes that the core should come from within.
He highlights Barcelona and Sir Alex Ferguson's Manchester United as successful examples of developing talent in-house, and insists Arsenal will not change their 'DNA' like other clubs in pursuit of glory.
"We want to continue to combine stronger financial resources with faith in our philosophy and policy. That means we want to continue to give chances to young players and build the players from inside our club with our culture," said Wenger, according to ESPN.
"Afterwards, if we can buy the exceptional players, we can compete today, but that will not be the basis of our policy.
"Most of the clubs who have been successful are clubs who have done that well. You can take Barcelona or Manchester United, who had a generation and built their success on players who came from within. These are our values and it is our DNA and it's important we keep that."
Referring to United specifically, Wenger went on to question the club's current philosophy of attempting to buy success rather than develop from within, highlighting a lack of patience that played its part in the exit of David Moyes after less than a season.
The 65 year old admitted that pulling together a high-quality crop of players — like the class of '92 at Old Trafford – is harder now than in decades previous, with every Premier League side employing a vast scouting network to try and capture the very best in their area.
"With United's success they have created huge financial resources and today there is no patience for them to continue to do what they did -- and they have the financial resources to go with a different policy," he added.
"As well, they do not have players like Paul Scholes, Ryan Giggs and David Beckham inside the club, because youth talent is spread more through 20 clubs than it was 20 years ago."
Under Louis van Gaal, United have spent vast sums of money to bring the likes of Luke Shaw, Ander Herrera and Angel di Maria in, all of whom joined the club for fees in excess of £25m ($38.9m).
The Red Devils do have a return to the Champions League to show for it, but with Arsenal now boasting 18 consecutive years in Europe's premier cup competition, they don't appear likely to change their football – or business – philosophy any time soon.