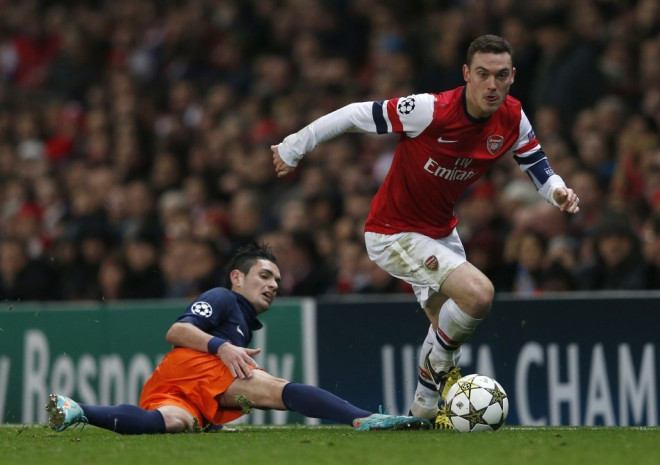 Thomas Vermaelen has claimed the Arsenal squad has 'no doubt' about beating Manchester City as they have defensive weaknesses.
Having taken just one point from their last two games, Arsenal host Manchester City on Saturday in a crucial game to decide their Premier League title fate or top-four finish for a Champions League spot.
The Gunners are currently fourth, six points behind leader Chelsea while Everton are six points behind them, with one game in hand.
Vermaelen is confident they can secure victory against Manchester City by taking advantage of City's problems in the back-line.
"Every team has weaknesses and while they have some big names at the back, when we played them earlier in the season we still managed to score three," Vermaelen told Arsenal's official website.
"There's no doubt that we can beat them. The confidence is there. They are on a good run and have beaten a lot of good teams but that doesn't mean that we can't beat them. Anything is possible," he added.
"Losing 6-3 at the Etihad [in December] was disappointing, but you always have to look at the game as a whole. We were attacking a lot and forgot our shape because we had to make up some goals to get back into the match. Then you can concede some more because everyone is going forward.
Arsenal drew 2-2 draw with Swansea in their last Premier League game while Manuel Pellegrini's side beat Manchester United 3-0 at Old Trafford.
"City had a great result at Man United, but it is up to us to try to expose the weaknesses that they have," Vermaelen told the official matchday programme.
Having been unused substitute during the major part of the season, Vermaelen will play alongside Per Mertesacker in the backline due to Lauren Koscielny's injury.