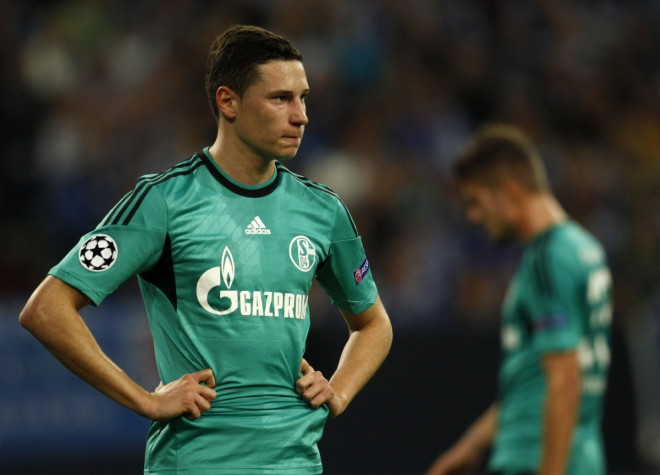 Schalke have revealed how Arsenal's failed to sign Julian Draxler during the January transfer window after refusing to match the club's valuation of the German youngster.
Draxler has a €44.5m release clause inserted in his contract and the Gunners were heavily linked with making the 20 year old their latest marque signing.
Arsenal representatives reported flew out to Germany in order to thrash out a deal for Draxler but were unable to clinch a deal before the window closed and sporting director Horst Heldt says the Premier League giants' bid was too low.
Heldt told SPORT1: "It was a lot of money, but it wasn't enough for us."
While Heldt's comments reaffirm Arsenal's interest in Draxler, which was consistently rejected by manager Arsene Wenger throughout January, Schalke's rejection suggests the club are unlikely to budge on the €44.5m valuation of the player.
Coach Jens Keller said last week the Bundesliga club were consigned to losing Draxler this summer, after stating it was impossible to plan with such unrest over his future.
"That's why I can't plan with him, because it is just not in my or our hands," he said.
"It's a god-awful situation when, as the coach, you don't know whether such an important player will move on, but Julian was injured at that time, so at least any unrest did not necessarily affect the other players,"
"It's clear that all the talk about his €45.5m release clause and the interest from top European clubs leaves its mark on such a young lad,"
Despite Arsenal's need for a striker, reports suggest that Wenger sees Draxler as a future forward in the same way he did with Robin van Persie, who was converted from a winger to a striker during his career in north London.
The club last week announced another set of impressive financial figures, which included the revelation Arsenal have upwards of £120m of funds which will be made available to Wenger this summer.
Having signed Mesut Ozil for a record-fee from Real Madrid, Arsenal have been heavily linked with making another major signing in the off-season in order to continue their recent improvement which has seen them challenge Chelsea and Manchester City for the title this season.