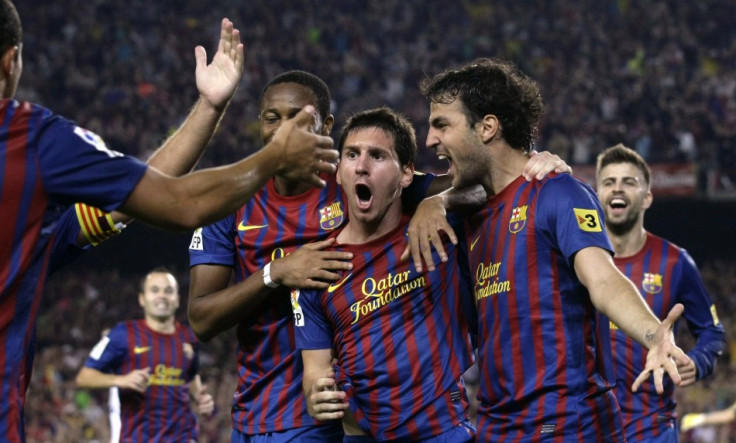 Barcelona vice-president Josep Maria Bartomeu believes Arsenal should have demanded closer to their initial £50m valuation of Cesc Fabregas, after watching the midfielder's impressive start to the new season.
Fabregas, 24, completed his protracted transfer to the European champions in August, with both sides locked in negotiations for over 12 months. Barcelona eventually agreed a deal worth an initial £25m, with a further £10m in add-on fees based on performance.
The Spain international has subsequently made a promising start to life in La Liga. He scored a spectacular goal in the in the European Super Cup against Porto and also scored against Villarreal on his Primera Division debut, leading Bartomeu to boast that the midfielder's true valuation is closer to the £50m Arsenal initially demanded.
"The transfer of Cesc was a very good deal for us," Bartomeu told Catalan newspaper Sport. "The price on the open market wouldn't have been €29m but he lowered his value by saying that he really wanted to go to Barcelona. His real price was what Arsenal initially asked - at lead €60m. The fact that we announced in advance that we would only spend €45m this summer worked to our advantage. Clubs were already aware of our position."
Arsenal manager Arsene Wenger has since said that the £25m Barcelona paid was a "reduced fee", and that the player would have attracted a greater fee had the club offered him to other clubs.
"If he was on the market to any club we would have got more money but we did want to get a decent fee," Wenger told the Independent last month.
"That's what I'm paid for. You cannot say because you want to get the deal done as quickly as possible: 'Just take him and give us what you want'. You have to fight for your rights. If Cesc is for sale and you can make an auction between Real Madrid, Chelsea, Man City, you will certainly get more money but he just wanted to go to Barcelona."