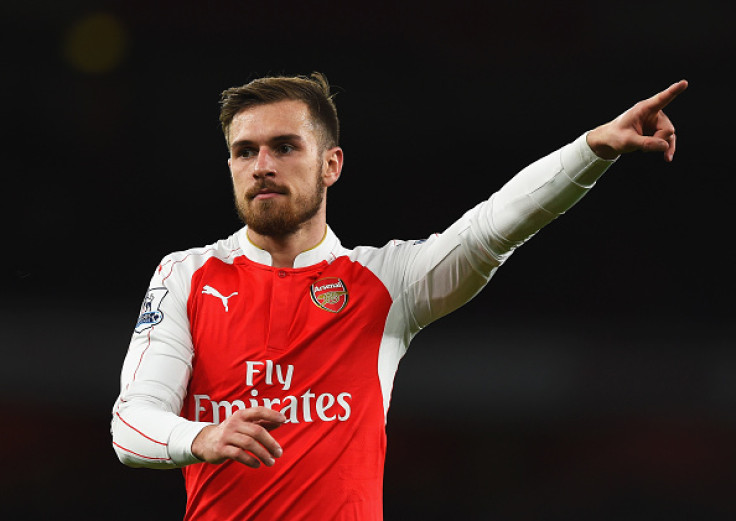 Chelsea legend Frank Lampard has urged Aaron Ramsey to embrace the defensive side of the game and not get over-enthusiastic every time he gets the ball. The Welshman ran the maximum distance against Aston Villa and scored the second goal for the north London club which secured the points, but was often found out of position in the middle of the park.
Lampard, who scored a lot of goals for Chelsea while being in the right place at the right time, believes that Ramsey has to mend his ways if the Gunners are to take full points against Manchester City in a crucial six pointer at the Emirates Stadium next Monday (21 December). The absence of Santi Cazorla and Francis Coquelin means that the midfield pairing for the game will be the same who were thumped 6-3 by the Citizens at the Etihad a couple of seasons back.
"Ramsey has to change his game and think about the defensive side of his game. With Ozil playing so well he knows he's not going to get that number ten role, so he'll have to drop deeper," Lampard told Sky Sports, as quoted by the Telegraph.
Jamie Carragher, who was alongside Lampard on Monday Night football, shared his scepticism about Ramsey's ability to adapt himself to the defensive side of the game. The pair talked about the midfield balance with Ramsey in the middle instead of Cazorla or Coquelin, coming to the conclusion that he has to add more to his game to be eligible to feature in that role.
"At the moment he doesn't yet have the ability to play in midfield two. I love him as a player, very bright and very clever but you can see the way he's running back he doesn't really want to do it," Lampard continued.
"Ramsey has to see that Ozil is the number ten and drop back in. It's alright playing like he does when you're playing the lesser teams, but when you're playing top teams you need to be more secure."
More about Arsenal