Arsenal centre-back Gabriel Paulista has claimed his English is good enough to understand his teammates despite manager Arsene Wenger voicing his concern over the Brazilian's poor grap of the language. Speaking with IBTimes UK after the 2-2 draw with Tottenham Hotspur, the former Villarreal star also admitted he doesn't yet feel like a first-choice player for the club as he is still competing with Per Mertesacker and Laurent Koscielny for a place in the line-up.
The 25-year-old centre-back made just eight appearances for the Gunners last campaign following a January move from La Liga. However, he has taken advantage of injuries to Mertesacker and Koscielny this year to stake a claim for a permanent role this season. Wenger, nevertheless, highlighted the player's poor English skills after the club's 3-2 defeat at Manchester United, believing a lack of communication led to a poor performance against youngster Marcus Rashford.
"I would prefer him to have better English because in the fraction of a second sometimes someone can help you and communicate better," Wenger said following the game. "He has Nacho Monreal, who plays next to him who can speak Spanish. I believe that he is working very hard on his English and is improving quite quickly and well."
Asked by IBTimes UK about Wenger's comments, Gabriel said: "I already understand my teammates on the pitch. I still miss some things but I am improving."
The Brazilian also talked up his current fitness levels despite missing the 2-0 loss to Barcelona, and has declared himself ready to cover for Koscielny in the upcoming run of matches.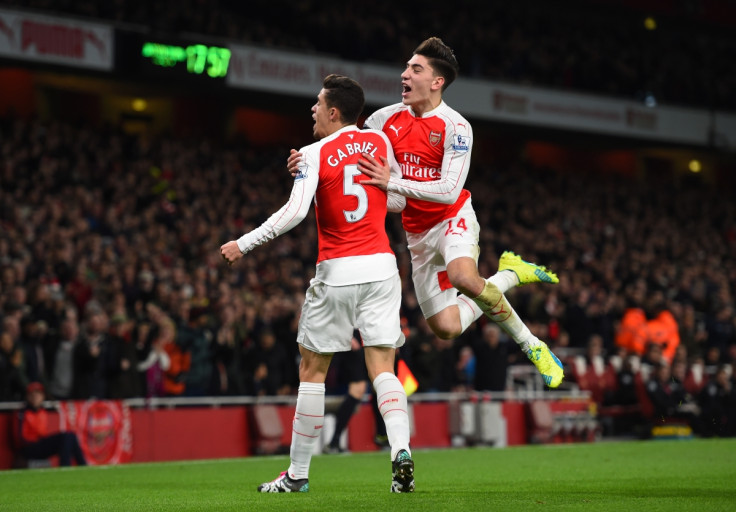 "I'm really well. I'm already 100% recovered from my last injury and now I just have to keep working to improve further," he said. "I still have a long way [to feel like a starter]. I'm working very hard [to get it] but the competition is high because my teammates are at the top level. I am training very hard and trying to take every opportunity in the games and I think I'm doing things right."
The Brazilian, nevertheless, believes that Arsenal's fringe players are proving they can cope with the absences of key stars after him and Ospina stepped up at Tottenham to cover Petr Cech and Koscielny himself.
"We have a great team," he said. Each of the fringe players who went into the line-up are proving so with strong performances. Ospina showed against Tottenham that he can be a starter too."
The Colombia international keeper helped the side to a crucial point in the North London derby. But asked whether that draw was enough to keep Arsenal in the race for the Premier League, Gabriel said: "The important thing is to keep adding points, especially in a game as complicated as this, playing with 10 men."
"We did well and Alexis [Sanchez] managed to get us a point. One point was not bad but obviously three points would have been better. There are still many games and we will fight until the end."
Arsenal are eight points behind Leicester City and three from Tottenham. Gabriel lamented his side's missed opportunity to reduce the difference with their rivals, but asked whether not winning the Premier League would be a failure he opined: "I do not know if it would be a failure. Teams [like Manchester United and Chelsea] who could be fighting for the title are behind us this season but we just have to think of ourselves to get first place.
"We have a very big team and we have to fight for the title to be the champions. Wenger spoke to us a lot before the derby to come into the game very strong in order to get the three points. We just got one, but in this stadium it is very difficult."