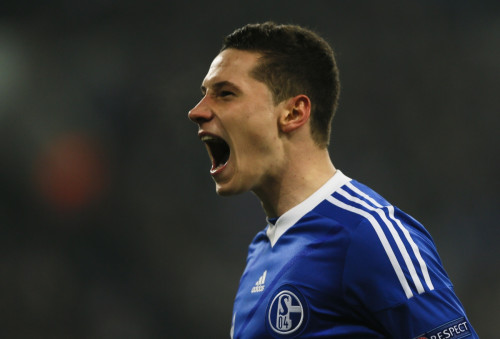 Arsenal are a step away from completing a deal for Schalke midfielder Julian Draxler in the January transfer window, according to Tutto Mercato Web.
Arsene Wenger has reportedly given the go ahead for the deal to be brought ahead from the summer and the Gunners are willing to pay Draxler's release clause which is set at £37m.
The north London club are expected to conclude the deal today and will be presented to the fans in the next few days. Lukas Podolski was rumoured to be included in the deal but the swap has been called off with the Premier League leaders ready to pay the whole amount and increase their tally of Germans to five in the first team squad.
The midfielder has been out of the squad since December but is expected to be back in the next few days. Draxler has scored four goals and assisted six thus far in all competitions and will be a major boost for the Gunners in their quest for the Premier League title.
Arsenal are currently top of the league, one point above Manchester City and two ahead of Chelsea in the league race. The north London club are in the market for a striker and Wenger is reportedly keen on converting the attacking midfielder into a centre forward in the same ilk as Robin van Persie who deserted the club for Manchester United in 2012/13.
However, Draxler is unlikely to solve Arsenal's problems up front with immediate effect, with the player still primarily a winger who likes playing behind the striker.
Should Arsenal have to challenge for the title they have to alleviate their woes up front, which is currently beleaguered owing to the absence of Theo Walcott with an anterior cruciate ligament injury and Olivier Giroud's profligacy in front of goal.
Wenger has vehemently denied that the Gunners are close to signing anyone this window and believes that his squad is good enough to win the title.
"It looks very unlikely. It is 23 January today and at the moment I must say we are not close to doing anything. I feel a bit guilty always going to a press conference during the transfer market and having nobody to announce (as a signing) but I don't want to lie," Wenger said.