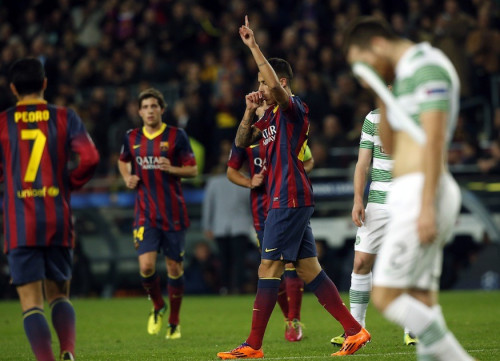 Arsenal are considering a move for Barcelona youngster Christian Tello with Arsene Wenger personally in the stands to scout the 22-year-old in Barcelona's 4-1 win over Levante, according to the Daily Mail.
The Arsenal manager will be impressed by what he saw, with the youngster scoring a hattrick in the quarter finals of the Copa Del Rey. However, Lionel Messi was the architect behind Barcelona's triumph, creating all four goals while making his 400th appearance for the Catalans. The Gunners are looking to bolster their attack in the absence of Theo Walcott who is out for the season with a knee ligament injury.
Tello's arrival will give them some width on the wings, with Alex Oxlade-Chamberlain and Serge Ganbry all having a tendency to come narrow. The Gunners do not have a proper winger to fall back on and his addition is likely to benefit Olivier Giroud, who has had to come deep to have an impact.
However, a striker is of the utmost priority now for Wenger who has been linked with moves for Alvaro Morata, Mirko Vucinic and a host of other names but is still dithering on a move as he prefers a loan deal so that he can swoop in for a world class player next summer.
Meanwhile, Chamberlain believes that the doubters are giving them belief to put in a concerted challenge for the title. The pundits have written off the Gunners as potential challengers for the title, with Manchester City and Chelsea topping their charts as favourites for the title.
"When people are doubting you or saying you're not capable of doing something, it gives you that motivation to prove them wrong," he told www.arsenal.com.
"At the same time, when you aren't favourites you can go about your work quietly - and the most important thing is that we know what we need to do to finish where we want to finish. That's the only thing that matters.
"The manager, the coaching staff and as a group of players, we all know what needs to be done - to keep winning games consistently. As long as we keep that togetherness and that belief in ourselves, it is up to us how well we do this year," he concluded.