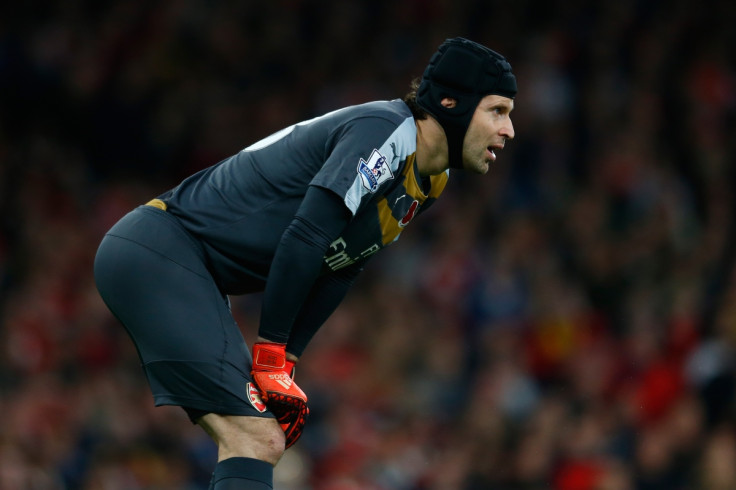 Arsenal goalkeeper Petr Cech says doctor's orders means he remains unable to play without a headguard but says he would be more confident without the protection. The Czech Republic international has worn the safeguard since 2006 when he suffered a fractured skull while playing for Chelsea against Reading.
The headguard has been a regular feature of Cech's goalkeeping displays for the last nine years but has not hindered his emergence as one of the most reliable stoppers in Europe. However, the Gunners' number one says he would be more confident between the sticks in aerial challenges without the support.
"I would be more confident if I had it off," the Arsenal 'keeper told the Evening Standard. "If you like it or not, the helmet affects your surroundings. You have your ears covered and it makes hearing worse. But the doctor has forbidden me to take off the helmet. If I did, I would not get insurance."
Cech's form has been key to Arsenal keeping pace with early Premier League leaders Manchester City, following his summer move from Chelsea. Their campaign resumes against West Bromwich Albion after the two-week international break.
Defender Calum Chambers is among those players who will be hoping the winter-half of the campaign will be kinder to him after making just one league start for Arsenal during the first four months of the season. The 20-year-old is ready to wait for his opportunities, despite being behind Per Mertesacker, Laurent Koscielny and Gabriel in the pecking order.
"I feel I have learned so much over the last two years and I am happy," he said according to Sky Sports. "I don't think it happened too quickly. It just happened very quickly.
"It was a whirlwind start but I took it game by game and enjoyed it. At the moment, I have changed position to centre-back. I'm not getting so much game time but I am still working in training and trying to fight for my place. I'm not down or anything.
"When you are not in the team, you have to prepare for games as if you are in. You have to do everything the same. I feel I can go up to them [Mertesacker and Koscielny] and ask them anything and learn from them. I watch them in games all the time, learning, and it is helping me get better and better."