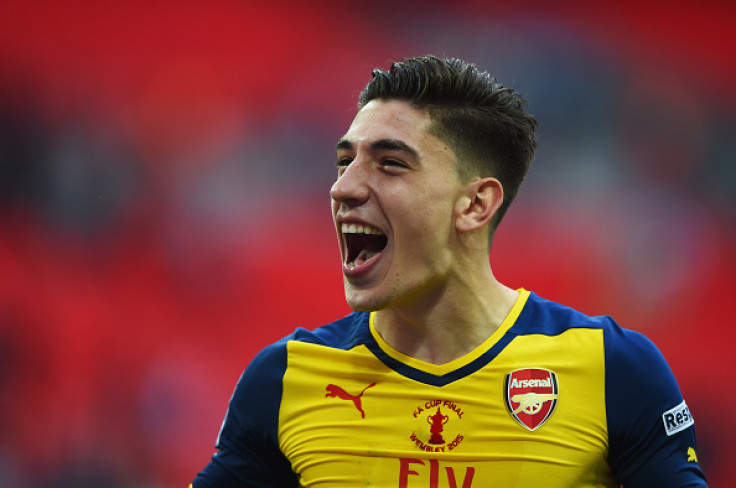 Arsenal right-back Hector Bellerin has agreed a new long-term deal with the Gunners after a breakthrough season during the 2014/15 campaign.
"Arsenal is pleased to confirm that Hector Bellerin has signed a new long-term contract with the club," a statement on Arsenal's official site said.
The Spanish U21 international joined the north London club from Barcelona in 2011 and progressed through the youth ranks before breaking into the first team at the start of last season.
Bellerin grabbed his opportunity following an injury to first-choice right-back Mathieu Debuchy and never looked back. He went on to make 30 appearances for the Gunners in all competitions, and showed maturity beyond his age in the process.
The 20-year-old defender was quite impressive in defence during the big games, and also provided an attacking threat from the wide areas, scoring two goals and providing two assists during the course of the season.
Arsene Wenger has expressed surprise at the rapid rise of the young Spaniard to become a regular member of the first-team squad, but is confident that he can continue to develop in the upcoming season.
However, it will not be easy for him to retain his place following the return to fitness of first-choice right-back Debuchy. But the French manager believes that the youngster will accept the challenge and take it in his stride.
"His progress has been huge because if you had asked me that question last year, exactly on the same day, I would not have guaranteed you that Bellerin would be a regular player in the club by the end of the season but he managed to do it," Wenger told Arsenal's official site.
"He's a very serious, mature boy. I met him when he was 15... And I could see straight away that there was something special on the hunger side, on the desire and maturity side. He was a very mature boy very early."
"I expect him to continue to develop [in the new season]. I expect him to confirm all the good aspects of his game that he has shown, and to accept that he has a tough challenge with Mathieu Debuchy," the Gunners' manager added.