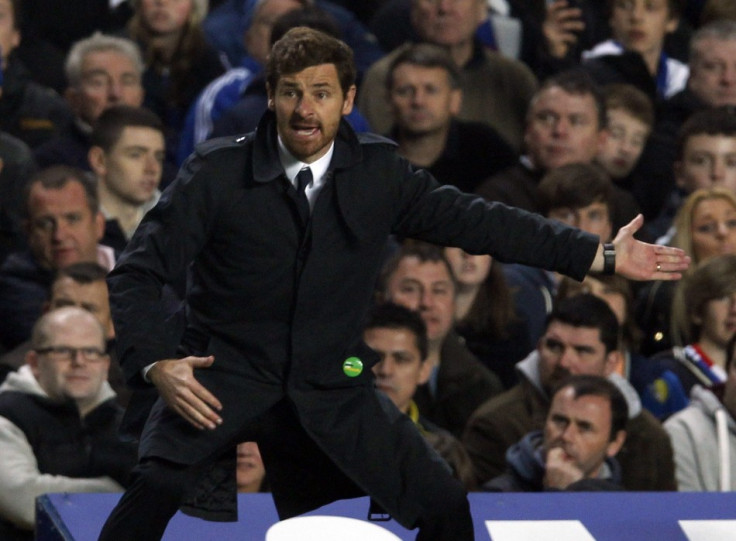 Arsenal legend Ian Wright believes Chelsea manager Andre Villas-Boas needs to follow the example of Manchester United boss Sir Alex Ferguson by being ruthless with his underperforming squad in order to impress his ideas on the club and their critics.
Chelsea's disappointing defeat to Liverpool at Stamford Bridge on Sunday capped a hugely underwhelming few weeks for the Portuguese tactician and the aforementioned former Arsenal striker, whose outspoken comments have occasionally irked Gunners' fans, believes the Blues boss should follow Sir Alex Ferguson's ruthless managerial approach at Manchester United in order to win round the club's mounting sceptics.
Wright believes the under-fire Chelsea manager may have to dispense with some of the club's old guard in the same way Manchester United have in the past. Citing the shock departures from Old Trafford in 1995 of Paul Ince, Mark Hughes and Andrei Kanchelskis, the former Highbury talisman believes Villas-Boas must illustrate a "ruthless" desire to implement his own ideas on a squad that is currently under whelming.
Whilst he concedes some of Chelsea's youngsters have not always performed to the required standards, the Arsenal legend is adamant the former FC Porto coach needs to illustrate just why the west London Premier League club pursued him.
"If Sunday's defeat to Liverpool - the first time in nearly a decade Chelsea have lost two home league games on the run - showed anything, it's that he (Andre Villas-Boas) has to display his ruthless streak now." Wright wrote in his column for The Sun.
"By that I mean making decisions which, while they won't please everyone, are absolutely vital to change things around.
"And if he wants living proof of what I mean, he just needs to cast a glance at (Manchester United boss) Alex Ferguson, the master of them all, and how he has shown his teeth over the years.
"For when it comes to big decisions, the words "emotion" and "sentiment" simply aren't in Fergie's vocabulary. As many have found out over the years.
"I remember one summer when he let Mark Hughes, Paul Ince and Andrei Kanchelskis all leave.
"At the time it seemed a heck of a step to take. It wasn't as if everyone was thinking his Manchester United team needed dismantling.
"But I also recall how, come the end of the following season, a new-look Manchester United packed full of kids ended up winning the Double. Well, that's the sort of decision Villas-Boas faces at Chelsea. And one he has to do so with the strength and belief in his own methods, regardless of what others suggest.
"There are a few of the old guard who should be under a lot more pressure for places than they find themselves."
He added: "Villas-Boas will have to be clever with how he goes about it, but the one thing he cannot deviate from is being ruthless - because Chelsea is a club which HAS to be challenging for everything going.
"If he does it his way and it still doesn't work, then fair enough. But he has to stand or fall by his own beliefs - and be given the time to do so."
The former England striker concluded: "The only way to get out of this hole is with a ruthless boss who is doing things his way, with the players all of the same mind.
"If not, you'd have to fear the worst for them this season... and if I was a Chelsea fan I'd be concerned in the extreme."