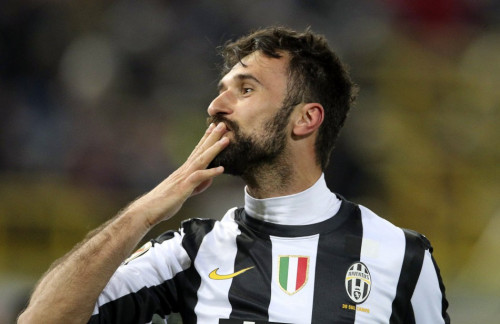 Arsenal are holding talks in London with Vucinic's agent on Monday as they look to complete a deal for the striker from Juventus, accoridng to Gianluca Dimarzio.
The Gunners are interested in a loan deal but the player has turned down a move, expecting a permanent deal with the London club. Juventus are willing to sell if the opportunity presents itself and are waiting for information from his agent regarding any breakthrough. Arsenal have already held talks with his agent earlier and are likely to reach a truce in London as Arsene Wenger looks to bring in a striker to complement Olivier Giroud.
Arsenal may face competition from north London rivals Tottenham who are also in the market for a striker but are reportedly short on funds to complete a deal. Inter Milan are also waiting in the flanks but the Gunners are likely to be favourites for his signature should they manage to agree terms with the 30-year-old. The Italy international has made eight appearances in the league this season, scoring two goals in the process.
Meanwhile, Wenger has revealed that they are in the market for a striker but has squashed any rumours linking the Gunners with a move for Vucinic. The Frenchman is sitting top of the Premier League table and knows that he needs reinforcements up front if they have to put in a concerted challenge, with Theo Walcott out for the season with a knee injury.
"We are looking at potential possibilities for us to get someone in, but we are not especially in for Vucinic. Some people have visual capacities that I don't have. We are not on any special case. I would love to announce something that would excite you and me, but I don't have the possibility to do it," Wenger said.
The Gunners have a FA Cup game against Coventry at home on Friday while they travel to Southampton for their next league game before a tough run of fixtures in January.