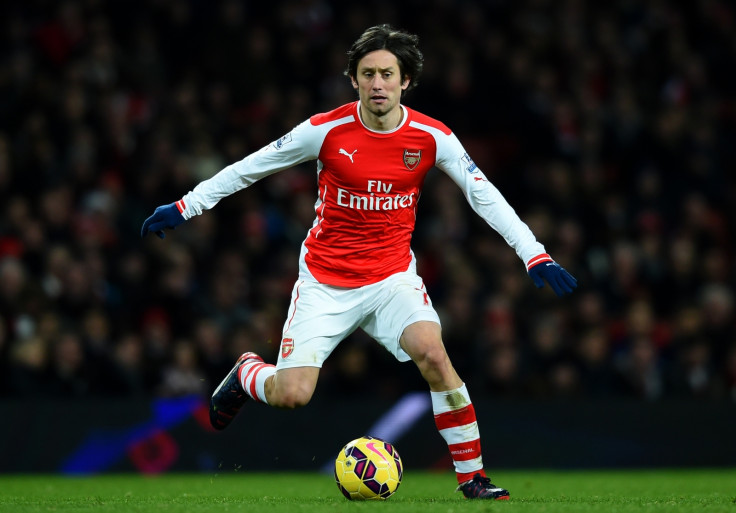 Petr Cech is confident that Tomas Rosicky will make his way back into the first team after recovering from a knee injury for which he had to be operated on. The midfielder is back in training and is currently working in an individual capacity until he regains the energy to fight for a spot in the first team.
"Thomas is with us every day, but trained individually because he has a programme. Everything goes according to plan, everyone is happy as knee heals. His injuries were not short, it is important that it coaches by itself and everything runs as it should. I think he can be happy," Cech told Czech site iSport.
Rosicky's career has been marred by injuries since joining the club in 2006 from Borussia Dortmund. The midfielder has failed to get a run in the squad for a sustained period which has stunted his development.
The 33-year-old, however, expects to play with Rosicky for Arsenal before the European Championships next year and insists that he is well on his way to recovery and should be with the team soon. "Tomas continues recovering very well, I think everything is going well and the team starts relatively soon," he added.
Meanwhile, Cech is likely to be drafted back into the Arsenal team for the Champions League following an error by David Ospina for Olympiacos's second goal, which led to the Gunners losing the game and now find themselves in big trouble with respect to qualification for the knockout stages. The north London club need to take points home and away against Bayern Munich to give themselves a chance, which given their present form looks a distant possibility.
Cech made a good case for his inclusion with a brilliant performance against Manchester United, where he made a crucial save to deny Anthony Martial moments before the half-time whistle. The former Chelsea man revealed that he had not made separate preparations for the former Monaco man but had looked considered him like other United attackers Rooney and Depay.
"I prepared for all the players just like I do in every match. I did not make a difference between him, Rooney, Depay or Mata and others. It is always good before the game to know what to expect from that player," Cech concluded.