Olympiacos goalkeeper Roberto discusses 'unfortunate' David Ospina mistake in win over Arsenal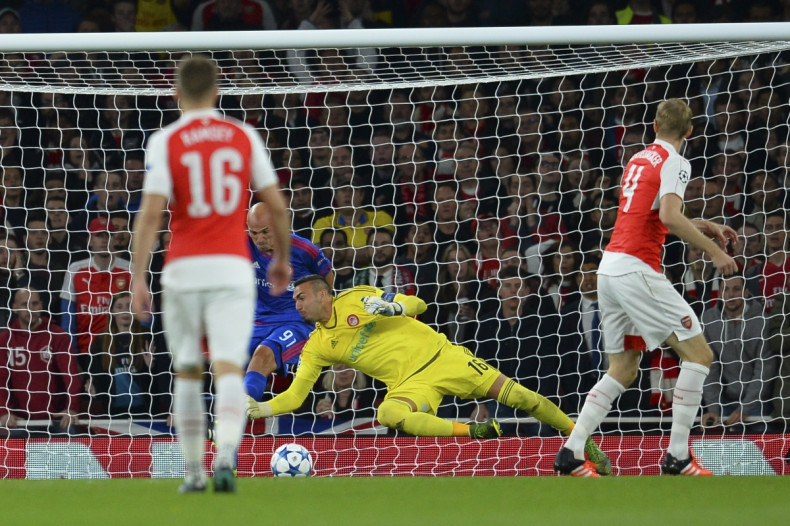 Olympiacos goalkeeper Roberto has backed Arsenal's David Ospina bounce back from his mistakes during the Gunners' 3-2 Champions League defeat to the Greek side. The Colombian dropped a corner into his own net to hand the Greek outfit a 2-1 lead just before half time – with Arsenal eventually losing 3-2 despite an Alexis Sanchez equaliser.
Roberto says Ospina should not be blamed over the defeat though as it was "just one of many" that a keeper can make, and he knows the Colombia international is a good custodian.
"I've seen the goal repeated on television. It is a very unfortunate one. When he tried to clamp the ball it slips from his hands and goes inside the net. Very bad luck. It is just one of many of the actions in which us, the goalkeepers, make a mistake and damage our team. But Ospina is a great goalkeeper and will overcome this," he said to IBTimes UK.
"The first thing you think when you make a mistake like that is that you want to die. It is a difficult moment but in the end we have to know that we are professionals and we have to cope with it because the game continues."
"We defended very well. We focused our game on that because we knew they have a brutal attack," the Spaniard said about his side's performance". We knew we needed to be solid at the back and take our chances up front. I think we have done really well, taking the few chances we had because we were aware that we could hurt them with our counter-attack.
The Gunners were the favourite to go through the next round alongside Bayern Munich, but the defeat leaves them with no points from two games. Roberto hopes Olympiacos complete the job in the next two games against Dinamo Zagreb, with the German giants beating Arsenal to help the Greek outfit qualify in second.
"Bayern are obviously the favourites and now we hope they keep winning their games while we go our job (by beating Dinamo)," he said.
English football came under scrutiny after both Arsenal and Chelsea lost their games in matchday two, meaning five of the six Premier League games played in the group stages have ended in defeat.
Having played in both Spain and Portugal before moving to Greece, Roberto believes that English sides are still a force in Europe.
"For us there is still a great level in English teams because we come from a competition in which the level is much lower," the keeper claimed. "Facing teams like Arsenal means a big step in quality for us. I do not have any doubt about that. I think they can still be compared with the level of La Liga or Serie A."